Quirinale 1 Great Peter Street, London, SW1P 3LL www.quirinale.co.uk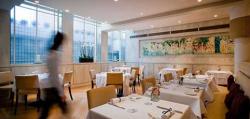 It was late July when we visited. At 7pm, Quirinale was white canteen clinical, shading amber and pink as the sun slipped behind the houses of parliament. But there were only four other tables busy at the height of the evening – this is what happens when MPs go on recess to lick their wounds from sordid revelations.
This modern Italian restaurant – a stalwart with parliamentarians – is serving again after the August hiatus and now opens on Saturdays. On first impression the presentation was flawless. White linen, pink roses, scent of lilies, a light, spring-like interior, cream banquettes and tawny fawn furnishings within an understated exterior. And the service is unobtrusive and discreet, perfect for MPs with private lives and open wallets.
My warm cauliflower timbale with egg, crispy bacon and black summer truffle was a witty take on bacon and eggs and worth the fifteen minutes it took to prepare. The moist warm, eggy pudding had an oat texture; golden yolk oozing out of the bottom, into which I dipped the crispy bacon strips, with a tiny salad held in place by a ring of cucumber shavings.
S's cocktail of prawns, Burrata d'Andria and tomato was interesting. The sauce is made from the top layer of milk when mozzarella is formed and mixed well with the tomato to make a grainy sauce – a different way to do Thousand Island dressing. Prawns were nicely cooked and pinky, meaty without being rubbery.
For the intermediate dish of pasta e zuppe, we had lobster ravioli with broccoli. I normally hate broccoli, though I force it down in the belief it is good for me, but this was lemoned and sweetened, the lobster was fresh and knobbly, knocking against the nicely al dente ravioli parcels in which it was packaged.
My malloreddus was not malodorous despite the strong hand of pecorino. Set in a parmesan 1970s style basket, malloreddus with Italian sausage and Sardinian pecorino sounded lovely in theory but the result was a bit too rich, the Italian sausage fairly tasteless in the teeth of the salty pecorino, the fennel a little overpowering and a little too much of the sabre-toothed pasta.
For mains, I had breast of guinea fowl with courgette and black summer truffle (was truffle mad tonight) and this was intoxicating, in a good way. Leather-soft guinea fowl with crispy skin filled with soft cheese, lain on tongues of courgette with black summer truffle infused sauce so rich and heady it was like licking alcohol. S loved her red mullet with cicerchie and Taggiasche olives. The pureed olives proved a good foil for the blander lentils and delicate mullet, all three made for each other, like a threesome by intelligent design.
For pudding, I had a liquorice tiramisu with honey glazed nuts, but by then the topping was melted and liquid and I couldn't identify the liquorice, only coffee (had I got the wrong pudding?) although I loved the fresh mint gelati, very refreshing at the end of a meal – 'it tastes like Aquafresh," says S. That's the last time I'm taking her anywhere. Speaking of which, having brushed my teeth and collapsed into bed, it was a long, indigestible night after such a well-resourced meal. They sure can eat, these Italians, or should that be these politicians.