Redhook, 89 Turnmill Street, London EC1M 5QU www.redhooklondon.com

I love a restaurant with booths. It's a nostalgia thing. A step back in time to '50's diners and high street curry shops, heavy with garlic and red velour trim. For all the lovers of retro styling, stepping into Redhook is like some kind of bliss.
From the plush front bar panelled with beaten aluminium tiles to the expansive back room restaurant, it's wall to wall black leather booths, low strung lights and an exposed brick Manhattan loft feel that's 'very Clerkenwell'.
We were seated directly opposite the bar, which one might assume would mean quick service at least on the drinks front. I recalled that my reservation had been confirmed with a proviso that we vacate our seats within a two hour period, giving me the impression this was a buzzing, high turnover place with no time to lose. It was half an hour before someone asked if we'd like an aperitif. An hour before anyone asked if we'd like to order.
My chap went out for a smoke to kill some time and overheard one of the waiters tell a friend that they were striving for a 'relaxed style of service' at Redhook. That's one way of putting it. Slow is another.
Styled as a surf, turf and cocktail joint by now we were in dire need of said alcohol. We ordered two summery sounding concoctions: a slinky Nicola Six and a Redhook Aperitivo. Full of strawberry, cucumber and citrus flavours they slipped down easily. Sensing it might be a while before any wine might reach our table, chap ordered a swift Redhook lager to tide him over. It never came. The bar was three feet away.
We sated our thirst with the in situ jug of tap water loaded with ice, mint, cucumber and lemon. Every table had one whether it was empty or taken – a simple, attractive and delicious idea that should be more widespread.
From the starters list of oysters, prawns, lobster and diver scallops we both opted for the latter, but in two delightfully different ways. Mine seared and placed on a generous sea of sizzled chorizo, red pepper and parsley oil; his roasted with capers, strips of crisp aubergine and a decadent sliver of foie gras. What a welcome, wonderful change to infernal pea puree and black pudding. Once the waitress remembered to supply us with cutlery we were able to tuck in, clearing our plates in a few short minutes.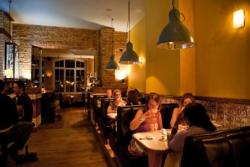 We were half way through a lovely bottle of Argentinian Malbec before the mains arrived. Having sampled the surf we thought we should try the turf in the form of rare Scottish ribeye nicely turned on the char grill, but it was not quite hot enough to melt the medallion of shallot and garlic butter that came with it.
Unable to resist a smidgen more surf, I opted to have a smaller weight steak with the addition of langoustine, a crustacean of confused heritage as this was what I would call a king prawn. Note the singular use of the noun. It looked very lonely sat there on its meaty mattress and for a whole £10 more than the plain steak, it wasn't the only one feeling like a chump.
French fries and a crunchy green salad of sliced sugar snaps, peas and toasted garlic completed the meal. By the time we had finished it was three hours since we had walked in the door, 60 minutes over our allotted window. Chap was by now spinning around in his seat, so cross, bored and tired we skipped dessert or cheese, saw ourselves out and headed home.
I really wanted to like Redhook but there's a balance between making customers feel like part of the crew and casting them out on such a long line that they feel lost and forgotten, bobbing around in a sea of other thirsty and hungry people. Put some welly into front of house and Redhook could be reeling them in.