19 New Bridge Street, London, EC4V 6DB www.refettorio.com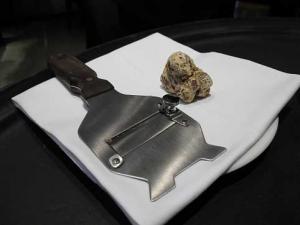 It's the season to splash out on the fashionable fungus from Piedmont and a great place to do it right now in London is at Refettorio. The restaurant is under the direction of the near legendary Locando Locatelli and its Head chef Alessandro Bay and they've truffled up for November.
With white truffle selling for around 10,200 euro per kilogram – actually a low price relatively speaking as the harvest is good this year – you don't want to be shaving your slices on any old dish. Only the best will do and at Refettorio they know exactly how to bring out every nuance of the ultimate luxury ingredient with a special truffle menu available while the season and supplies last.
Best eaten simple with uncomplicated ingredients, the truffle lends itself to foods that bring out its unique qualities. Refettorio's menu has dishes like scrambled eggs on toasted ciabatta bread and white truffle; white truffle risotto; homemade spaghettini with butter and white truffle; Pan fried veal chop, melted cheese, mashed potatoes and white truffle and warm zabayon and white truffle with savoyard biscuits. The four-course meal, including coffee and amaretti biscuits costs £125 per person. A special Chef's Table set in Refettorio's kitchen is available too for groups of up to six and is priced at £200.00 per person.
Of course you don't have to go the whole hog, dishes are available separately, but it's hard not to dive in and indulge. J, who is so in love with truffles you could put him on a leash and use him as a truffle hound, had the eggs a starter. Nothing is simpler than scrambled eggs and truffles and it's a dish the truffle hunters themselves also adore. Good bright yellow Italian eggs cooked to a fluffy moistness served on bread is always delicious anyway, with the white truffle on top you're looking at a breakfast for champions.
The truffle is sliced at table so that the aroma sets your pulse racing and causes every head in the restaurant to turn your way. So expensive that your waiter watches what he's doing with the aid of digital scales, the truffle is exquisite. I have mine over home made spaghettini in butter as a starter, the pasta is perfect anyway but again the truffle topping makes it very special.
J goes for the risotto as main and this is not quite as good as hoped. The rice has been cooked in plain water with no onion and no white wine as far as we can tell. There was probably no mantecatura either, the addition of butter at the end of cooking. This may be good for setting off the truffle but it leaves the rice a little bland. The rice is a longer grain type than the usual arborio and it lacks creaminess. We're not sure if we are failing to appreciate something or have spotted a flaw. Answers on a postcard please.
No problems with my veal chop. Cooked delicately it has a layer of cheese on top and divine mashed potato. Truffles and creamy mash just melt my heart and this is a cracker of a dish. Once again it would have been very good without truffles, with truffle it takes off to angels three-zero.
Dessert with white truffles? Bring it on. A warm saboyon with truffle and those lovely little Savoyard biscuits. It's so light its almost levitating out of the glass and its very, very moreish.
You could go to Alba for your fungus fix, but Refettorio is a lot nearer. The special menu starts November 25th and goes on until mid December or when supplies run out. If you fancy a bit of truffle in paradise, then you know where to go.