Being more-than-familiar with Indian food havens like Ilford Lane, East Ham and Green Street- where bountiful Gujerati thalis and Keralan feasts are never more than two doors away, we were always going to be a tough audience. We arrive with big expectations and bigger appetites. Seated like Maharajahs in the chandelier-laden room at a table dressed as well as our fellow diners, we're raring to go.
The restaurant is HOT, facilitating the judicious application of a cocktail from an extensive, nicely eccentric list. The signature 'Bombay Breeze' delivers a tangy, tamarind-based refresher, whilst the 'Wild Raspberry' fuses the flavours of cucumber and gin with its namesake fruit- an unlikely combo that works a treat. In fact, the cocktail menu is scattered with gems- amongst them a Strawberry and star anise mojito.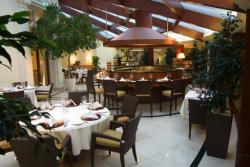 So, to the serious business of eating. The 'amuse-bouche of the day' arrives- a Chinese soup spoon houses a tiny portion of chaat sat atop a single sliver of potato. It does 'amuse' me, in that, for £1.50, you could have your fill from any of the snack kiosks along Green Street- and for mere pennies on the subcontinent itself.
When you're privy to this sort of information, you can't help but baulk at the prices. That's not to say there aren't many who are willing to stump up- indeed, plenty are flashing the cash on an unsavoury midweek evening in February. What they get for the money is opulent surroundings, hyper-attentive service (so frequently are our water glasses replenished, we're in danger of drowning by the time we leave), and food presented in a refined French fashion rather than heaped on a steel tray.
And it is nice to have a sommelier recommend Pinot Noir to accompany a lamb chop main course, rather than wash it down with the cheapest BYO bottle of plonk. The chops in question are garnished with tiny paper chefs hats- a gently comic touch which is echoed in the presentation of Baingan saraf- a spiced aubergine puree- which arrives in its own hollowed-out shell, its cap sitting at a particularly jaunty angle.
Halibut curry displays an uncanny resemblence to Heinz tomato soup, with a thicker, silkier sauce than is typically found in Goan cuisine- almost like a fiery bisque. The halibut has imbued the sauce with good flavour, but sadly the majestic fish is overdone. Sacrilege.
In fact, it's all very smooth, rich and refined, reflecting the location and clientele. I'm not adverse to biting on the odd cardamom pod, but I'm guessing biting (and spitting, for that matter) are firmly off the menu here- after all, betel nut-hued saliva stains would be a bugger to remove from the plush upholstery.
Standouts include Paneer soola- smoky from the tandoor and a world away from the rubbery polystyrene bricks from the supermarket. Sandwiched with piquant lemon pickle, it's the star of a platter of veggie starters. Also good is the Sev batata puri- little savoury biscuits piled with thin, crisp vermicelli, yogurt, spicy sauces and pomegranate seeds- a study in flavours and textures.
And, with desserts, there's real mastery at work. An egg-rich Masala tea brulee works particularly well, but the real dish of the day is the Almond Medjool date pudding- clever, clever clever. All the flavours of the Indian sweet mart are distilled into a trio of marzipan-like quenelles, headily aromatic rose ice cream and a fennel and black pepper sauce. Modern fusion at its elegant best.
The kitchen seems to have its strengths in these snacky, snappy starters and dainty desserts. Perhaps it's expectations being set overly high- but main course dishes just seem a tad lacklustre, marred by easily-remedied niggles like a burnt garlic garnish on otherwise note-perfect Lasooni palak; a herb puree so bitter as to be unpalatable; slightly mushy rice; or the still-crunchy onions in that aubergine puree- which doesn't quite live up to its high-falutin' presentation.
So, a curate's egg- good in parts- but that's not to say, as in the metaphor, that this renders it all bad. Not by any means- dining at the Bombay Brasserie is an experience, the food almost a supporting player. People come to clink crystal and have starched linen napkins spread across their laps as they're served prettily-portioned dishes by a courteous team of serving staff.
It's where the heat of Bombay and the glamour of 1930s Bollywood feel closer than the bleakness of London and the harsh realities of recession. I even find a diamante in the loos, no doubt an errant gem from some Desi-princesses' gown. But I'm no princess, Desi or otherwise- so I'm afraid it's back out East for me.