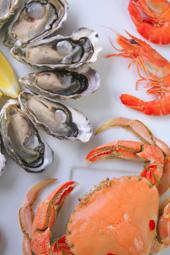 What is a whelk and why? Cockney Wanker, the sublime Viz! character claims to love them dearly, as do many knees-up muvva brown, gawd bless ya mate Londerner types. Imagine a rubber band, or the inside of a golf ball perhaps, one imbued with the flavour of the sea and that's a whelk. I told mother to leave well alone but born, and until the bombs started dropping on her head, bred in the original London Docklands, she felt she knew all about whelks and their ways. She was in trouble from the start.
'Chewy,' she said from a foetal position, trying to remove whelk from mouth as subtly as she could. 'Ah yes,' I said sagely, 'they often are.' I was glad I hadn't ordered them, I've tangled with whelks before and see no reason to ever do so again.
It was really the only wrong foot, or flipper, that fish restaurant Riddle and Finns put forward as the sun scorched Brighton at lunchtime. If the kitchen staff were eager to get out and get to the pub for the England v Germany match about to start they weren't showing it, in fact service if anything was verging on the slow side. I hate seeing my bottle of cold wine standing warming on the counter and endlessly ignored by the passing staff. Yes we got a basket of decent bread with a selection of spreads but the wine was wanted a bit quicker.
This restaurant on the edge of Brighton's cutesy lanes has always looked tempting. It uses the design trick of crisp white-tiled walls, and vertiginously high marble tables with stools, to look like it's a 'been here for centuries' kind of shellfish bar. The kitchen is at the front and open to view, so that from your high chair you can see staff filleting the very fresh fish. From the lane side an open window dispenses oysters to people sitting outside, casually showing off their sophistication to those passers-by clutching styrofoam boxes of burgers. It's the sort of place well-heeled Brighton-ites go and you can't help suspecting that somewhere on the ownership side, in fact the same owners of the excellent Due South up the beach, Notting Hill genes are present.
Of course Brighton stopped dragging fishing boats up the beach many decades ago, but Riddle and Finns are still getting the good stuff from nearby Shoreham. Monkfish cheeks in a tempura batter with a ginger and peanut dipping sauce were excellent, the batter light and crisp as it should be and not overwhelming the delicate cheeks. It's good that chefs are championing the cheek, monkfish is otherwise such a waste of fish, the monstrous head normally consigned to the bin or the Doctor Who props department. Squid with oily, spicy chorizo was another good dish, the squid perfectly cooked, despite being quite large, so that there was the right hint of tender bite. Looking at mother still embodying the Blitz spirit and chewing another whelk with determined resignation, I was happy with my choice.
Outside Brighton was showing the great multicultural nature of the British seaside on a Sunday. A family of Muslims, the women in full burqas, passed by and from under the veil of one could be heard the nasal whine of a typical 14 year old London girl. She was moaning about her little brother and asking why she'd been dragged away from her cool towny friends to come to 'this rotten place'. A bit unfair but I remember seaside trips when I was young, I felt much the same at her age.
Mains came slowly but in the main were worth waiting for. My crab, chilli and rocket linguine had excellent crab but the pasta hadn't been drained properly, worse someone had put Parmesan cheese on it. This kind of sacrilege is unforgivable, you simply do not add cheese to fish pasta, especially as it melted into the excess water to create an unwanted cheese sauce. A shame as the crab was too cracking to be abused like that.
Far better was a Skate wing, beautifully burnished in butter in the classic way and laden with capers. A fine hunk of fish, it was thick and fresh and meaty (sic). Simple is often best and simple too was a fresh local mackerel served whole. The excess oil of this fish had been driven off to concentrate the flavour better, the skin well seared and crisped. It didn't need much more than a squeeze of lemon and so that was all it got and the bones were picked clean while the salad mopped up the juices.
And as the moment of England's humiliation drew closer we ordered one dessert to share and gobbled it down. Rhubarb Pannacotta was pwopperly wobberly; its sweetness coupled with the rhubarb's astringency a good antidote to the mackerel.
I was worried from its name, look and location that Riddle and Finns would be a bit too cutesy, too in love with itself, but instead it was a friendly place with breezy staff and generally tidy cooking for a fair price. I can't recommend the whelks though, I think mother is still gamely chewing hers three days later. Keep calm and carry on!