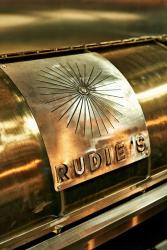 Rudie's may have been named after Jamaican rude boys and girls but it's anything but. This smart, new Jamaican restaurant and rum bar in London's Dalston is polite and sophisticated with hearty conversation steaming off the teak coloured tables and reggae pitched at a decent volume.
There is also a minimalist Skandi-style palm tree light installation in the middle which I can't say I've seen in that many Jamaican food joints.
Thankfully, a more robust breed of Dalston hipster seems to venture here, not the fey, cupcake fainting variety. In fact, perhaps they weren't even hipsters. I was relieved there was more than a handful of black diners too, as these kinds of places can be sanitised versions of more authentic gaffs too intimidating for your average liberal.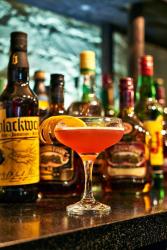 But there was a great atmosphere and it was busy enough for a Tuesday night while nearby Nandos – not that there's a comparison – languished. And the food was miles better than other Jamaican food I've tasted in this country; fresher, sharper, perkier.
Rudie's launched at the start of October to, "provide customers with a truly authentic taste of the very best of Jamaica".  Although the head chef Nicola Melillo is Italian, he has worked as head chef for several restaurants in Jamestown, Barbados and is training up his Jamaican second-in-command. The signature jerk, the restaurant's literature says, "will be marinated for 24 hours in a secret blend of herbs and spices, smoked using pimento and sweet wood, before being cooked over coals in traditional jerk drums".
And what drums! Gorgeous silver pans like giant breadbins harbour chicken, lamb or pork which gets served with sauces like banana pepper or jerk ketchup. There's also the drink. Rudie's reckons its bar houses, "the UK's largest selection of quality Jamaican rums including the likes of Appleton Estate, Edwin Charley and Monymusk".
Some of the cocktails, such as signature Katch a Fire after the Bob Marley song, have four rum shots in. "We think the cocktails should be strong," says manager Jose, "We're charging £8.50 so people should feel the alcohol". Too right! My Governor General (the names are great) with Blackwell rum, orange curacao, vermouth and sorrel was seductive. A's Salassie I – with Ethiopian coffee and Appleton V/X rum – had the effectof firing him up maniacally before a sudden rummy crash into stupor. I suspect this was good.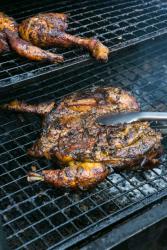 But to the food. A starter of spicy Peppa shrimp – three king prawns doused in a scotch bonnet, tomato and onion broth on a bed of spinach – was powerful heat and flavour. The ackee and saltfish bakes were sensational. These were tiny baps of sweet bread stuffed with smooth buttery ackee contrasted with rampant saltfish. A's "hearty Jamaican soup" was a vegetarian broth of lentils, okra and carrots with not a whiff of scotch bonnet but wholesome with it.
For mains, we had half a jerk chicken which was enough for both of us. It the best I've had in a long while with sticky, salty, blackened herby skin and a very juicy flesh. Watch out for shards of bone though – an authentic but potentially painful feature.  The Yard classic of curry goat was also very good, meat still on bone rendering a much better taste and a strong swell of black pepper. We had this with salty, crisp sweet potato fries and a refreshing avocado and mango salad that acted as a foil to the heat of the peppers.
The portions are big enough to fill you by this point. But I found space for rum cake with rum butter sauce and ice cream. I didn't notice the rum butter sauce but loved this little volcano-shaped cake before foolishly ruining it by dousing rum on top. Greedy. But what else can you do in a rum bar but soak it all up when it's as good as this?