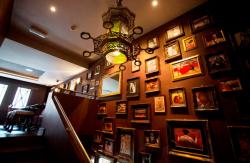 I'd assumed Salvador and Amanda, of the eponymous new restaurant, were a thirty-something couple from Earlsfield; he probably worked in management consultancy, possibly commuting to Madrid every fortnight, fighting alcohol-induced gout from impending middle-aged ennui.
She ran a Yummy Mummy online boutique catalogue of useless flimsy prams (sorry, buggies) and previously worked in PR. But she won't be going back now Tybalt's a Terrible Two.
Wrong! Bar entrepreneur, Eric Yu, whose portfolio includes Opium, Jerusalem and Punk, has named his latest endeavour after surrealistic painter Salvador Dalí and his muse Amanda Lear.
His lively (and loud) tapas place in Bloomsbury has just installed a new head chef, Ecuadorian Rubén Darío Estrella, which was why A and I took a little look.
It's a loud, pipey bar when you first step in, with huge suit backs and a bit of braying from the nearby Holborn law chambers, but the punters seem friendly enough and were in good spirits the Thursday night we went. We were eating upstairs, however, which was quieter, and whose red leather banquettes and ocean-liner teak took us into a more private, cabin-like territory.
The tapas menu splits into seafood, meat, sides with a scatter of chef's specialities. Of particular note is the wonderful hand-carved Iberico ham on the bone – a staple of any tapas joint – which was especially buttery-salty when wrapped around the little Marcona almonds. That, by far, was the best combination of tapas. The sautéed wild mushrooms with garlic and a poached free range egg were also good, pungent, firm and not overplayed.
The pork crackling, we thought, was a little dry however and could have done with a few more slugs of fat clinging to its undersides. Chicory, walnuts and blue cheese salad was crunchy and refreshing and did the job. I wasn't sure about the Cornish scallops with cauliflower puree and raisins – all good constituent parts but a bit weirdy beardy together, the raisins and cauliflower just spinning past the left field. 
The delicate crab in the crab and chilli croquettes was overpowered, as often happens in croquettes, by the potato mash. Worst, we thought, were the gimmicky and apparently very popular chorizo "lollypops" in quince aioli. These were redeemed only by the superb aioli – the greasy lollypop batter that covered the chorizo coins slid off, despite the lollypop stick. The overall effect was simply unnecessarily oily.
But if that gimmick was too wayward, the food behaved itself come mains. The roasted sucking pig with new potatoes and broccoli while, not a massively Spanish dish, was well-sized, sedate and done well. We finished with a Pedro Ximenez (Barbadillo), which I loved, black treacle and liquoricey and a good counterpoint to the meaty sheen of many of the tapas.
I think the bar here – which we didn't try – is a main draw to the punters as are the European DJs who play at weekends until 3am. Out of pure laziness and because of my love of rhyme, I will let their PR – not Amanda, sadly, to have the last word: "Salvador & Amanda Bloomsbury is the ideal spot for those who choose a fiesta over a siesta." Or a fiesta over chorizo lollypops.