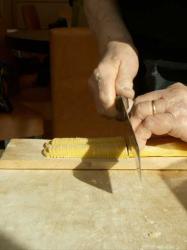 I open the door, I'm nervous, there are too many people, they'll never let us stay. How did it come to this?
Last Saturday my whole family came to London for my sister's birthday and being the 'food guy' in the family I was tasked with sorting out the restaurant. Now I would like to tell you that I left our table booking to the last minute because I have an incredibly busy life and it slipped my mind. Truth is it just slipped my mind.
Being a twenty first century (read lazy) fella I used a coffee break on Thursday to scour the Internet for price friendly Italian's in Soho. After stumbling across a few less than appetising nightspots and even less appetising restaurants I decided to cast my net further a field.
Finally I found a great prospect in not too distant Fitzrovia, I picked up the phone and dialled: 'Hello? Is that Sardo? Good afternoon, would it be possible to have a table for six at eight thirty on Saturday." Silence, the agonising purgatory of ledgers being checked. Christ, we're going to end up in Pizza Hut. I know it. 'Happy birthday sis, because you're so special to us we're hitting the Hut and you can have all the ice-cream you want, no seriously, go nuts, or sprinkles, whatever you want. Just mind the children vomiting, next to their children, vomiting."
'Sir."
It all hinges on this.
'Sir, we have a table for you, it's the last one actually."
Yes! Hallelujah! Praise baby Jesus, Vishnu and the little white Eskimos. I've done it; I've saved the Birthday. Excellent.
I was still feeling very smug when I met everyone on the platform at Kings Cross.
'So where are we going tonight?" In my best Daniel Craig I tell them; 'Sardo, it's this great little Sardinian place near Goodge Street, very popular."
'Lovely," says Mum 'how many did you book it for?"
It started to rain.
'Six of course, why?"
They all sigh.
'What?"
I was supposed to book the restaurant for eight people, the six of us, my sister's boyfriend and my brother's girlfriend.
So that's how I ended up standing in the doorway of this charming restaurant, nervous about giving the maître de my name.
'I'm sorry, we've brought two extra people is that OK?"
What did I expect him to say?
'No, I'm a fair dealing man and shan't be making extra profit on the back of your poor planning"?
Of course not. Like an unexpected guest at Sunday dinner we were welcomed with open arms and minimal fuss.
And so the tone for the evening was set. The cuisine ranged from comfort food to comfortably some of the best food I've eaten and the service was top notch.
The island of Sardinia is poor, very poor, but it is surrounded by a wondrous supply of natural bounty. It is unsurprising therefore that their food shares many common notes with that of Sicily.
We started with stuffed squid, tuna carpaccio and a mind-blowingly good clam linguini. This was the kind of food that makes you want to forget you're obligation to analyse and simply go with the sumptuous flow. The starters were incredible value for money (non coming in over £8) and were well balanced in both flavour and proportion.
Seconds out and we could hardly wait. Inch thick, tender veal steak, butter rich sirloin and lamb, oh the lamb. There was enough of it to feed two people but one enamoured (female) diner made short work of it. As she said at the time 'I just couldn't stop eating." We also tested out Sardo's humbler offerings with a simple rabbit ragu. A steal at £12 it stood up to anything that I'd had at far fancier Italian restaurants.
One thing I will say to the detriment of this undoubtedly enchanting restaurant is that if they ever want anyone to order pudding they might want to consider cutting the main courses in half. A couple of bottles of the excellent Cannonau Riserva were the only other things we managed past our lips that night.
As we struggled to our feet and made our way out I noticed that our party had shrunk by one. Where was my dad? I poked my head back inside to see him sat at the table still chatting to the waiter and sipping the dregs of his wine. It was my fault that there were too many of us on the way in, but it is to Sardo's credit that we were one less on the way out.