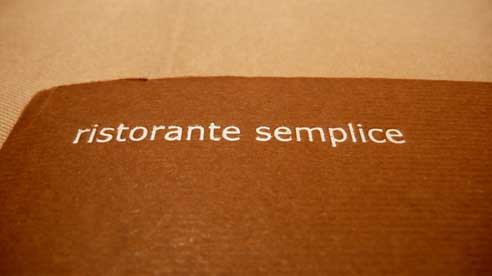 When spread, the pinkish orbs of Semplice's menu resemble a g-stringed bottom. A curious detail to have slipped the attention of the posterior (oops, interior) designer responsible for rehabilitating London's first 'Spaghetti House' into Michelin stardom. But beyond that interpretation, the dining room is a chic space in the seam of an upmarket boutique. A softly lit blend of piano grade ebony, tactile gold swirls, supple leather seating and thick, latté-coloured tablecloths.
After antipasti of milky buffalo mozzarella on ruby-red beef tomato, just a pizza Frisbee away at their new-ish 'Trattoria' (Semplice itself doesn't have a bar), my friend, Matteo Inama and his winemaking father, Stefano (the unofficial 'Kings of Soave') settled in for the sort of stress-free lunch that explains why Italians lead such long lives. We talked about blood of the soil bottles, dwarves, and the legendary Italian eateries to have dotted London throughout its timeline.
Whilst others veered à la carte, with Tatler's award of 'best set lunch in London' in mind, I was keen to exchange £22 to investigate. It included home baked bread, a glass of wine (although Inama's greengage scented Classico would be in the Riedels today) and espresso ground from still moist beans. These come from artisan, Gianni Frasi, Italy's most respected 'torrefacteur' (coffee roaster). Frasi chooses his outlets, then 'tunes' the machines, forcing a culture of freshness by only supplying a strict quantity at once. Incidentally, when encountering a batch considered just below par, he ordered it off the menu until the next delivery. If I had been there, the reject beans would have quickly entered my morning routine…
As the name suggests, Semplice is about (meticulous) simplicity. A generous starter of fat pappardelle was glossily spun with racing green baby spinach and earthy, springy chicken livers. Such an unequivocally peasant Italian effort ironically came from head chef Marco Torri's Japanese sous chef. Despite their lobster plates, it warranted envious looks from my à la carte friends.
My main of grilled tuna was fleetingly seared, keeping a suggestion of the sanguine, licked by bright, tart olive oil and Sarawak pepper. It flaked to the touch, but still retained bite. To finish, whilst it could never grace the cover of Vogue on account of its casual presentation, my fruit tart with coconut 'cream' and mango ice cream was a charmingly soppy meeting of cool, sweet goo.
Overall, considering the glamorous décor, clean ingredients and near telepathically anticipative service by Maître'd/co-owner, Giovanni Baldino (ex Locatelli), it was hard to find fault with Tatler's title. It was, quite Semplice, a strikingly satisfactory lunch. But did such wholesome home-cooking really deliver enough to justify Michelin's star?
I thought back to the recent Italian chef's congress, 'Identita London', held at Vinopolis. There a new wave of chefs demonstrated a cuisine of evolution using principally Italian ingredients. Why, I wondered, do we so rarely (if ever) see a presentation-crisping overhaul in our Italian restaurants? Rather than advocate an elBulli approach likely to be badly copied, having lunched with a winemaker, it seems appropriate to use the vinous analogy of Super Tuscan wines, where an Italian classic is given a little 'French polishing'. A sensitive spin where the original version is still recognisable. It seems that Britain's Italians are experts at expat cooking, replicating, time and time again, Bella Italia's greatest (rustic) hits. Whilst I enjoy this style of food, I wondered if the team behind Semplice were to launch another eatery, might it be more trailblazing? After Semplice Ristorante and Semplice Trattoria, why not embrace the opportunity with Semplice Futuro…
The Wines of Inama
Afterwards, we tasted a cross-section of Stefano's wines, although I needed plenty of water to cleanse Frasi's incredibly long-lived coffee. The latest release of his Soave Classico ('08), which often ranks as one of the Veneto's best renditions was far beyond cash-cow supermarket swill delivering an emerald-flecked, almond scented soft and full textured palate of marzipan and minerals. His '07 Vigneti di Foscarino brought back memory of dessert with its lush nose of pineapple and a suave palate of coconut. Elegantly bevelled by oak it also had a greater acidic backbone. I've never been a fan of the Vulcaia Sauvignon, finding the '07 as austere as ever, but his Carmenère based 'Piu', made from the long-lost grape of Bordeaux, mistaken for many years as another variety, Cabernet France, echoed Frasi's grounds. Aromas of coffee, controlled spice, violets and lipstick, with chewy, meaty tannins and a final freshness…
See Jamie Goode's website for more.