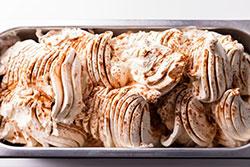 What do you do when you feel like rebelling against the idea of seasonally-appropriate food? Have ice cream in December, of course.
It was with this in mind that J and I ventured down to Snowflake Gelato on Wardour Street for dessert after a rather disappointing dinner at a nearby restaurant. Would it put the smiles back on our faces?
The Soho store boasts a clean, modern interior, with judicious use of white Corian and stainless steel – it's contemporary without being cold and clinical. Handily, this isn't just a large ice cream counter with a couple of chairs thrown in at the back as an afterthought; there's ample seating, with some very comfy leather seats to recline in. Quiet pop music emanates from the speakers; it's not at all a bad place to be.
There are over 30 flavours on offer at the Soho store, and between us we had five of them. Despite the wide variety of flavours, we noticed they all have a few things in common: they're all extraordinarily smooth and creamy, they're all light in flavour, and they all have real bits of whatever they're flavoured after inside them.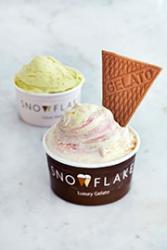 All of ours were delicious yet the standouts were gingerbread, a current Chef's special, coconut and crème brûlée (though the later is my favourite dessert, so there may be some bias). There's a satisfying dose of texture every time you hit one of the bits of gingerbread or coconut inside.
The great flavour is down to Snowflake making the gelato themselves, using organic milk and cream. The basement of the Soho store boasts a lab where the ice cream is made in small batches and where new flavours are constantly tested and refined.
We were given a tour and it's impressive to see that this is a bona-fide ice cream manufacturer, rather than just another store which gets third-party ice cream delivered in a lorry every day. It's something I feel Snowflake should place greater emphasis on in their marketing, but it seems to be something they're quietly proud of rather than something they shout about, and that's fine by me.
At just over a fiver for a large pot it seems expensive until you realise just how large a large really is – J didn't finish hers and I had some difficulty. In retrospect, a medium would have sufficed. If you're looking for dessert in Soho and have a complete irreverence towards seasonally-correct food, Snowflake Gelato might just be the ticket.