SOCIeTY Bar and Restaurant 33 Blackfriars Lane London EC4 6EP www.societycity.co.uk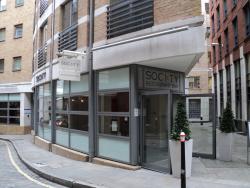 Blackfriars Lane is a cobbled road that gives quaintness to the lane and the buildings either side. As with many central London streets it's a mix of the old and the new, SOCIeTY Bar and Restaurant is perhaps Blackfiars Lane's most modern feature. Opened recently this bar/restaurant has sharp contemporary decor, which they refer to as 'industrial elegance', it's certainly a very open and spacious place, quite deceptively so and the split levels within it come together to give it a great feel.
SOCIeTY's menu has choices of six starter dishes, eight mains and four desserts, plus a cheese option, but includes within it some excellent options. For our starters we went for the crispy pork belly salad in which the pork was very tender, having been slow cooked it was very moist and had great flavour. The hunk of belly was accompanied by some good crunchy pork fat croutons and a nicely poached egg with some mustard seed dressing. It was quite substantial but nevertheless a great dish. Seared native scallops was an altogether more elegant dish, four perfectly seared scallops each sat on a mound of very good cauliflower puree and accompanied perfectly by a bacon and sweet onion jam, its sweet and slight saltiness pairing really well with the scallop and puree.
The crispy skin breast of duck was another winning combination, the duck cooked medium to medium rare was left with some nice pink flesh in the middle. This was supported by some good creamed spinach and sweet tasting honey glazed parsnip, the dish finished off with a good port jus. The rolled chicken with goats cheese and chorizo stuffing was an excellent combination, the stuffing lifting and giving great support to the meat, rather than overtaking its essential flavour. This was served with some roasted peppers, candied aubergine and a nice pesto gravy, which brought the dish together well, a side of shoestring fries with garlic mayonnaise was the icing on the cake. These were two very good mains, indeed.
Desserts of a tangy glazed lemon tart, which had some zingy bite and was served with clotted cream and a fruity Summer pudding that had a good sweet acidity, and was accompanied perfectly by some vanilla Chantilly cream, were the perfect ending to the meal.
We had La Fonda, a Chilean Sauvignon Blanc with our meal which had some good fruity sharpness that was fresh and cleansing, SOCIeTY has a good range of wines on their list including by the glass, as you would expect from a bar/restaurant.
SOCIeTY Bar and Restaurant, although a little minimalist in its decor and furnishing, is both comfortable and welcoming. Their staff have a light touch and service throughout the meal was excellent, we hardly knew they were there until we needed them. Although a little 'off the beaten track', it's but a couple of minutes walk from Blackfriars station and City Thameslink, it's worth seeking out, this is absolutely a society that I'd be happy to drop into from time to time.