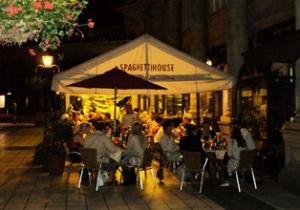 It has been quite some time since we have eaten in a Spaghetti House. I have to say that I have long since thought that this chain of Italian restaurants was a little like some other restaurant chains, who shall remain nameless, whose produce is largely prepared in off-site kitchens and shipped in, only to be reheated for the customer. How wrong have I been, we were told that most of the offerings on the Spaghetti House menu are made in house.
We went to the Sicilian Avenue Spaghetti House recently and were impressed, both by the quality of food that was served there and by the atmosphere of this popular link in the Spaghetti House chain. For a start Sicilian Avenue is a charming pedestrian walkway that cuts between Bloomsbury Way and Southampton Row, in which there are a good few Italian businesses. Spaghetti House, to one end of the Avenue occupies an elongated corner plot. With a semi-permanent non-smoking outdoor eating area spilling into the avenue, sitting there you get the feeling that you could be somewhere much sunnier than London.
We started our meal at this Spaghetti House with two choices from the Assaggini section of the menu, the chickpeas with spicy Italian Sausage and the deep fried courgettes. The chickpeas had a lovely cumin flavour coming through, presumably from the oil that had been rendered from the sausage, the dish was very satisfying and lovely. The courgettes had been cut into 1cm batons coated in a light tempura style batter then deep fried, before being lightly seasoned and served. The courgettes, contained within their crisp coat, were very good, having been left with a little bite. Not having known how big these dishes would be, we also chose the deep fried calamari to go with them, which in some ways was a bit of a mistake as all three dishes were quite substantial, but having said that the calamari was another very good choice, having been coated in the same style batter as the courgettes, the calamari had been left with a little resistance to the bite, they went down very well, dipped in the anchovy mayonnaise with which they were served, they were excellent.
We had already chosen mains, so after a short interlude along came a dish of Spaghetti Putanesca and what seemed like an enormous piece of rib eye steak with chips. The Putanesca had big flavour from the black olives, anchovies and capers that went into the spicy tomato sauce it was bathed in. This was a robust, full flavoured dish that we both loved. The rib eye had been char grilled, we had asked for it medium rare and it was on the rare side of that, but actually, it was perfect for this cut of meat, it was a remarkably tender and full flavoured steak. The chips were crispy and dry, but I ate only a few, as you might imagine, given what had gone before.
Then came decision time, should we or shouldn't we and we copped out a little, choosing the soft option and sharing a dessert. The Tiramisu, which I have to tell you was a very good choice, was one of the best I have tasted, we understand that the coffee the biscuits are soaked in is heavily laced with amaretto, it was divinely light and moist, a lovely flavour and a perfect way to finish our meal.
With our starters we each had a glass of Pinot Grigio, which was very pleasant, light and fruity with a little sharpness and a glass of the Italian Merlot with our mains, which also had good a good fruitiness and a medium body. Service at the restaurant was efficient and attentive, with some good interaction between staff and customers. Whilst we were eating we saw several people queuing for tables, given that this was a Wednesday evening, this is a popular restaurant indeed. I imagine this is for two reasons, the food is very good and it is very reasonably priced. We were told that the Spaghetti House chain is in its 55th year and if the quality of food and service that we had at the Sicilian Avenue restaurant is representative of the whole chain, long may they continue.