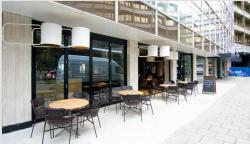 Concrete. They loved it in the 50s and 60s, especially people making art spaces. It was so modern, so easy to work with and so cheap. We fell out of love with the stuff soon after but monuments to concrete still exist; the South Bank Centre and the Hayward Gallery for example.
This new restaurant at the BFI offices and screening rooms flaunts its concrete ribcage and does it very well, with the space filled out with elegant colourful furniture that echoes the past, without being overly retro, and with light fittings designed by PSLab in corrugated metal and brass as well as'Light Drawings' by British artist and photographer Christopher Bucklow.
In a London restaurant scene dominated by boringly bare brick walls it's refreshingly clean-limbed and airy. Light rushes in from the courtyard behind, as well as from the street in front and as Kevin McCloud would no doubt say approvingly, the line is blurred between inside and outside.
It's a place where you can sit and debate the merits of films that are independent (usually independent of any mass audience that might want to see them) over the sort of food that old school liberal arts grads like a lot.
A wood fired oven dominates the open kitchen, although it seems to be running on gas the night we go'It's dual fuel,' a waiter explains and from here come good looking flatbreads and pizzas. In charge is former Grain Store head chef Mark Block who can be seen hard at work looking, in his thin narrow-lipped ascetic way, like Ian McEwan on receipt of the news that the University of East Anglia has just burnt down.
The menu is blessedly short, no need to ask the waiter to come back too often while you fight the diversion of smartphones, and seeing a dish I think I recall eating at the Grain Store – sprouting beans salad with seeds, crispy chicken skin and a citrus dressing – I go for that.
It's refreshingly crunchy, popping with vitality and luminously scattered with parsley. The chicken skin is as thin and as friable as a poppadum and has a spike of saltiness. Only as the dish goes on, and there is rather a lot of it, do I find the citrus souring my mood. It's a dash too much for me and the acidity, which was pleasantly astringent at first, becomes dominant. I leave some of the dish behind for fear of needing a Rennie or two after.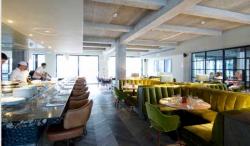 P has potted crab and shrimps, a briny blend that's properly light on butter. The twin textures are easily discernable; the fall to the fork raggediness of very fresh crab meat and the juicy plump angel's buttock bite of prawn. Again there seems a slightly heavy hand with the lemon squeezer but not so much as to annoy. A pickled cucumber adds a fine vinegary note.
We share a plate of crudités with excellent homemade hummus slicked with oil, and some deep fried mushroom balls that are dangerously hot at the core but too tasty to let cool down.
It's so hot outside I really can't fancy a pizza or anything from that oven, so settle for trofie pasta with summer vegetables, mint and Parmesan. Trofie is a Genovese pasta usually reserved for mixing with potatoes and pesto, a dish that tastes much better than you might expect.
Here it's at home with all the bits and pieces of vegetables and the dish is pleasantly light tasting but substantial going down. I don't normally warm to a waiter offering me extra Parmesan but could do with some here; more umami to meet the sweetness of the grilled cherry tomatoes.
Sea trout with Vietnamese salad and Asian dressing I thought would be a winner for P but she's not enamoured with what's been done with the skin; she expected crispy but the texture is neither crispy nor soft and rather odd. The salad and dressing are perky though and the fish flesh well cooked, moist and flaky. I don't taste a lot, as it clashes with my own food too much, but what I do taste I'm fine with.
Desserts of English berries in elderflower jelly plus a chocolate pot with mascarpone topped with a tangle of candied orange peel, go down well and like everything on the menu they're well priced, even'cheap', which is just how this kind of restaurant should be – egalitarian.Far better value than some of those hipster Hoxton places where you seem to paying for the right to be seen eating with bits of food stuck in your beard, rather than because the chef is particularly good.
They do breakfast, brunch and dinner here and I like that. A working restaurant for people on the move and ideal if you're coming to see a film, as you won't miss the start and you can have something to eat after. Yes I cannot resist the easy ending, as casual affordable eating, it's right up my street.