356 Essex Road, London N1 3PD. www.suttonandsons.co.uk
Nick remembers his youthful food experiences by experiencing a proper fish and chip shop once again.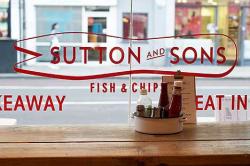 It may perhaps be a false memory but I am pretty sure that when I was a small boy chip shop chips came in printed reused newspaper; my dad claimed the ink added flavour. Then came plain unused newspaper and finally the modern abomination that is the Styrofoam box.
Perhaps all us oldies have false memories of fish and chips based on when they were the only fast food available and easily affordable too. My hero Alf Tupper, the Tough of The Track, trained on them in the Victor comic and they fuelled his battles against the posh kids.
But then of course fish and chips was working class food – cheap, nutritious (mostly) and available every hundred yards or so. Maccy D was just a gleam in an evil clown's eye and hamburger gases had yet to pollute every town in the UK.
Then fish got pricey, cod cost the earth and even though the price has now recovered slightly it will probably never be as cheap as it once was. Chip shops themselves died out, caught in a vicious circle – people didn't want to wait for freshly fried fish but didn't want kept-warm cod either. And of course then there was the elephant's leg in the room – the kebab.
So  this is a preamble to saying that fish and chips is back, posher and pricier but back on the menu in the high street, or at least those high streets where there's a bit more money about.
Does that describe the Essex Road? Well that part of London is full of oxymorons; zillion quid houses next to council estates (the Labour voters living in the former, somewhat ironically).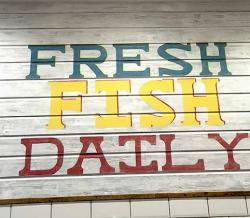 Sutton and Sons have a new chippy here having made a solid reputation at their original chippy in Stoke Newington, itself an offshoot of founder Danny Sutton's fishmonger business selling ethically sourced and sustainable fish. The new place is in a parade of fairly grubby shops but inside it's all chalkboard catch of the day chic, warm mists of frying steam and the godly aroma of batter,
The menu features all kinds of temptations – grilled catch of the day, tuna burger, lobster sub, grilled oysters and grilled moules mariniere as does the chalkboard with promise of lobsters, prawns, seabass etc but much as I would like to eat these it has to be standard fish and chips on a review. After all, if they can't get the basics right then the fancier dishes ewould have to be viewed with suspicion.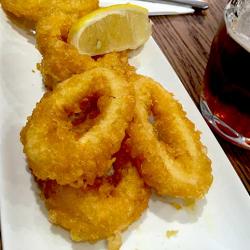 We do make a small exception and share a plate of squid rings in batter first though. The batter is the rough-hewn kind, the kind where it's not over smoothed so that small lumps of flour stay in it. This is how it should be, as far as I am concerned.
The squid is perfect, as soft and as unctuous as Jon Snow interviewing a refugee. The batter is a bit hot; some of the oil is still on it which burns my mouth. I should eat slower. We dip the rings in cooling pots of mayo. I also cool down with a very decent Hackney Brewery'craft' American Pale Ale from a drinks list of beers and wines.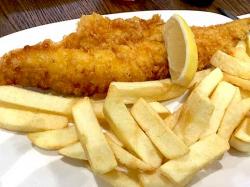 Main event is cod and chips for L, haddock and chips for me. We'd observed the chips coming up from the basement in baskets – clearly freshly hand-cut and the right size. They come cooked correctly too, a chip shop chip should not be golden and crispy but only lightly coloured and with a faint hint of detumescence. Not soggy, but a bit soft.
These are very good so I shower salt on and to hell with the blood pressure. As for the fish, you can tell they are very fresh and cooked in clean oil at the right temperature, so that the batter is crisp and not oil-saturated. We wolf it all down, delighting in the snow white flaky meat all soused, as is legally required, in Sarson's Malt Vinegar.
Unfortunately time is tight and we must get back to the office for'meetings', so we don't get to try the puddings made by Mrs Sutton but they sound good.
With cheerful, willing staff who clearly know how to fry and who work with the best ingredients, Sutton and Sons really do bring back the chip shops of my youth.
For digital natives, those unlucky enough to have never known original chippies, Sutton and Sons helps reveal to them what the old farts like me are on about when we go into maudlin, misty-eyed reveries about the old days.