46 Grosvenor Place, Belgravia, London SW1X 7EQ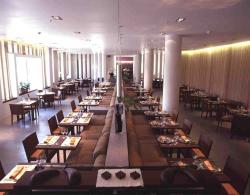 There is always a flurry of announcements pre-Christmas from restaurants introducing set menus for the festive season. Everyone is vying for the same customers – office parties and impromptu 'let's meet before Christmas" splurges – hoping to convert them into regulars after the seasonal spirit has faded.
They had thronged to Mango Tree the evening I dropped in. Breathtakingly huge, plainly decorated and oddly devoid of adornment (just a few Christmas decorations), the restaurant was buzzingly full with large round tables of colleagues, smaller groups exchanging presents, couples recounting their days. It was loud – very loud – but without a hint of rowdiness. This was the corporate crowd: dark suits, careful chumminess, restrained humour.
I wondered why such an obviously successful restaurant would need to attract more custom; it was as tightly packed as a tin of lychees. First, Mango Tree is now open all day and, secondly, after about 8.30pm the office crowd slopes off leaving space for later diners. That's the time to turn up.
Waiting in the moodily-lit bar for our table, Mark ordered a G&T. Mango Tree Fizz Cocktail, madam? Hearing the list of ingredients, Mark changed his mind. Sophisticated cocktail glasses with curved stems, the rim decorated with a tiny Birds Eye chilli, this glamorous concoction – scented with lychees, it was freshly sweet with a chilli kick – was a perfect taste-teaser.
As the world's biggest cynic, the word 'banquet" has me waiting to be disappointed. With five dishes in the starter course, five in the main course plus steamed Thai Jasmine rice and stir fried rice noodles, then a pud, I was glad I had kept my thoughts to myself. We would not go home hungry.
In any banquet, or tasting menu, you need balance: fresh, light and delicate with heavily rich and creamy. The Plaa Salmon, chopped smoked salmon tossed with lemongrass, chilli, mint and lime, was a delight. Very pretty – the pearly glistening pink of the salmon resting on a tiny pale green lettuce leaf – the vibrant gingery lemongrass cut through the creaminess of the salmon.
Satay made with marinated turkey was more interesting than usual for this standard Thai starter, thanks to its stronger-than-chicken flavour. A sucker for mussels, I slurped the large New Zealand mollusc out of its shell, pleased that its coriander-fragrant sauce didn't overpower its subtle fishiness. Soft shell crab rolled with rice was surprisingly flavourful though the seaweed wrap seemed tougher than usual. A samosa-like triangle of deep fried rice paper encasing a prawn mixture was our least favourite; the fish layer (similar to a prawn toast, we decided) seemed oddly compacted; it needed the sweet chilli sauce.
A glass of a big-hearted Australian Marlborough Sauvignon Blanc was the perfect match, retaining its character against the spices. It led neatly, geographically and alcoholically, on to the New Zealand Pinot Noir that went so well with the full-bodied main courses.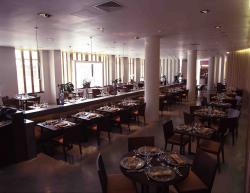 In one of our earlier reviews of Mango Tree, main courses arrived cold. I'm sorry to report that the same happened to us. When we queried whether they were meant to be room temperature warm, everything was taken away swiftly with charm and an appropriate apology. Although it's a long way to the kitchen, I suspect the heat loss was down to us lingering over our starters – savouring, comparing, contrasting, cogitating. It is hard for huge kitchens to cater for slower eaters.
Turkey made another appearance, this time in a heart-warming Massaman curry. Still-crunchy sprouts, the other seasonal ingredient, came with pork belly spiced up with a garlicky oyster sauce, a colourful platter of bright green, pinkish brown and cream. Chicken stir fried with ginger, lime and chilli was succulent and zingy. We suspected that the stir-fried beef with black peppercorns would have been more impressive if it hadn't been reheated; it brought a welcome red meatiness to the feast. But by far the most delicious was the butterfish, subtly marinated and incorporating a thin layer of herby spices, cooked in a banana leaf. With a meaty texture, it was sweet, slightly salty and delicately flavoured. In my view, rice is a waste of stomach space that is meant for real food and I don't eat it. The noodles were rich and sticky, perfect for sloshing up sauce.
After such a generous feast, mango crème brûlée seemed an unnecessary indulgence; thankfully, the portion was small and easily finished. Impressively rich and creamy with an appropriately thin crunchy caramel cover, it needed to be more mangoey.
In a passer-by-free part of London – down the western side of Hyde Park Corner – Mango Tree is unlikely to be on your regular route unless you work locally. If you are well ahead with your Christmas wrapping and have time for a late, long lunch, or are taking a day off to Christmas-shop and need to recover from the throng by warming your wintry bones and spicing up your flagging enthusiasm, this Christmas banquet is extremely generous and excellent value for money.
Mango Tree Christmas Banquet menu: £39 per person
Mango Tree Fizz Cocktail: £7
House wine: £6.50 a glass or £19.50 a bottle