The Big Easy, 332-334 Kings Road, Chelsea, London. SW3 5UR www.bigeasy.co.uk
Do you remember when TGI Fridays was amazing? Yeah, me too, think I was watching Power Rangers back then. Big portions of American-style food scooped up and power-slammed on to your plate, looking you square in the eye and challenging you for the World Title inside a steel cage match of chompions. Ha, see what I did there? Chompions. Oh Marcus.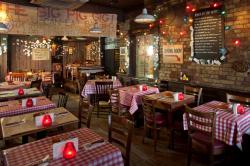 Anyway, The Big Easy brought back all the memories I had of the happier times in an American restaurant. I know the whole super happy awesomeness can be a bit overbearing for the average Brit; I haven't watched a single episode of Glee purely because the name of the show is Glee. Yet you've got to give it to them, the Yanks really know how to capitalise on showing you a good time. This place does just that.
Don't go thinking that you'll be greeted by cheerleaders with pom-poms or have people singing round your table when you blag it's your mate's birthday, I didn't see any of that during my visit. There was a rib-eating contest that I should have been involved in, but even that was done with a dose of refrained Britishness mixed with the American feel-good factor. The Big Easy has a nice, relaxing atmosphere full of tables of happy people enjoying food and talking freely and openly; it's so refreshing compared to some dreary posh places.
Aside from the difference in atmosphere with certain poshy-posh joints, The Big Easy definitely gives you more bang for your buck in quantity. BIG ingredients, BIG portions and BIG flavours. My buffalo shrimp starter is a prime example. Giant, meaty, chewy shrimp in a light tempura-style batter, deep-fried, stacked in a pot and ready to burst at first bite. My man game is kept strong by choosing the Voodoo style sauce, which is in a little pot next to the shrimp pot. It's spicy but not hot enough to leave you gasping for H2O. There's a chain in America called Popeye's, which I'd love to come to the UK because I'm a big shrimp fan…but until that happens I'm more than happy to come back repeatedly purely for this dish.
Steak and lobster for main course. It's gotta be, right? You can't pussy out now, don't be scared of the enormity of the starter, don't piss your panties because the American way is to have huge portions. There's no choosing between steak or lobster, you go for both. One huge chunk of medium rare ribeye steak and a half-pound lobster split down the middle ready to be picked, with buttery spinach and fries on the side. It's not your typical British cut of ribeye, it's not a flat uniform slab of meat, more of a sizeable lump. I've noticed with American steaks that it seems to be more about the vertical than the horizontal, which I don't mind because I'm not fussy. Whatever dimensions you end up with the important thing is how it's cooked and seasoned, this being a good effort of a deeply-pink medium-rare, but a touch on the chewy side.
The lobster, as you can imagine, takes a lot more dexterity than the steak. You've got to get in there and do some serious cracking, scooping, dissecting and slurping. Bibs are on hand for those who either want to look the part or have a high regard for their clothes. I still feel silly wearing them so it doesn't stay on for long. Dip your chunks in melted butter or do what I do and pour the stuff all over. I don't know own a copy of the official lobster eating etiquette rules, so I'm just smashing it.
At this moment dessert is not in my thoughts. It's a bloody nightmare sometimes when you've gorged yourself moments before but I'm here to demolish and that's what I'll do. Sticky toffee pudding actually seemed the lightest thing on the menu amongst all the heavy-sounding choices. What's even more frustrating is it's bloody good and I'm feeling a little tearful as I know I shouldn't be shovelling in spoonfuls but I just can't help myself.
Ok, overall thoughts, well, I clearly like the place. It's exactly what you expect: big, easy, American food. I don't pay much attention to the fear of this cuisine genre being linked to heart problems because with all the gee, butter, cream, fat and msg in modern cooking is American-style really worse? Definitely try the buffalo shrimp, pick whatever main you fancy and just remember to leave some room for a rich dessert.