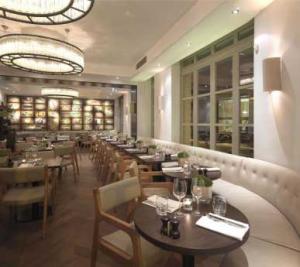 I've been meaning to eat at The Botanist for quite some time but never seemed to find an opportunity to make it there. Every time I drive past it's teeming with slick-looking Chelsea chaps and attractive blondes sipping on cocktails and chain-smoking Marlboro Lights. Today is no exception; we fight our way through the packed main bar to get to the restaurant which, happily, is a much more calm and less hectic affair.
With the RHS Chelsea flower show just around the corner, The Botanist is both aptly named and perfectly located for a pre or post show pit-stop and they have even conjured up some lovely cocktails to mark this year's flower-powered festival and so it would be rude not to try them.
'Elderflower Royale' made with gin and orange flower combined with my favourite St.Germain Elderflower liqueur and Champagne is served in a martini glass and makes for a citrusy-crisp and refreshing aperitif. The 'Jasmine Blossom' is equally refreshing with mandarin vodka, jasmine syrup, fresh mandarin and a little Champagne served in a flute.
The menu is not over-complicated with just a handful of dishes for each course, I kick-start the meal with mmarinated scallops and potatoes with hazelnuts and truffled mayonnaise and my companion opts for the Foie gras and chicken liver parfait with toasted brioche. My scallops dish is essentially raw but cooked by the acidity of the marinade, which is lovely and subtle and doesn't overpower the delicate slivers of scallops.
Crunchy sugar coated hazelnuts and sliced new potatoes are pleasant, although I would have preferred a simple marinated scallop starter with just a little of the mayonnaise. The Foie gras and chicken liver parfait is delicious with a vanilla and raspberry vinaigrette to cut through rich, almost buttery goodness of the parfait.
I choose a simple main course of gently poached wild cod with aioli which is simply plated and dotted with bursts of almost neon-green broad beans and has an intense garlic punch from the aioli, making it a perfectly satisfying dish for spring.
My companion doesn't do fish and chooses instead the 35 day aged Angus rib-eye steak with chips and Béarnaise sauce which hits the spot nicely, although the meat seems to have lost some of its heat en-route from kitchen to table, it is still enjoyed.
Staff are friendly and allow us time to digest our main before offering us dessert, which is always a good move and doesn't make you feel hurried. The warm chocolate cake with pistachio praline ice cream is calling for me and I persuade my companion to go for the white chocolate and honeycomb parfait with strawberry compote.
Desserts arrive with a nice but slightly un-chilled glass of Muscat de Beaumes de Venise dessert wine. My chocolate cake doesn't quite hit the desired note of satisfaction and is essentially a nice enough square of sponge but the accompanying pistachio praline ice cream more than made up for it. As usual I always have to take a bite the other dessert; white chocolate and honeycomb parfait which is nice enough but not really for me either.
Perhaps I'm too much of a savoury girl or perhaps desserts have to really be super special to grab my attention – I am not certain which is more true, but I did enjoy my starter and main, so it really isn't so bad.