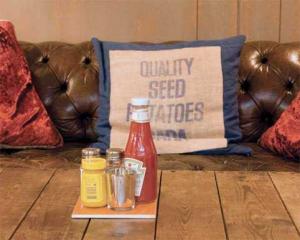 The Bull isn't in an idyllic spot but it is well placed for the jaded passers by. Clutching their spoils, after a tough day shopping in the Westfield, they file in looking in need of a stiff drink. Ensconced in a corner of the third floor restaurant, a lively buzz emanating from the floors below, we survey the equally disparate décor and crowd. Geronimo Inns have tried to give the rather soulless space character by padding it out with, and this I would imagine is the official spiel, 'an eclectic mix of furnishings'. Think Grand Ma's cottage with a hint of hunting lodge and a spattering of sports bar. It doesn't gel. Having said that, once you know what you are in for, it's a nice enough place to wile away a couple of hours. There are games and a billiards table, flat screens for sporties and a good selection of wines, ales and lagers. It all feels quite comfortable and laid back and whilst it's certainly affected (in that its aiming for kitsch and antiquated style despite its new build shell) it's not pretentious. This is a welcome change; lately my cynical soul has had to share the pub with far too many organic jus, not to mention the invasion of the cravat.

The menu is made up of 'small plates' and 'bigger plates'. At first it promises classic English pub grub; soup and crusty bread, terrine of pork and veal. But then, what is this Italian impostor? Spaghetti Bolognese, and its Indian cohort, the ambiguous 'curry of the day'? For those people still flogging the 'but curry is the nation's favourite dish' line, enough already. I like a madras as much as the next girl, but this is comparable to the curry house 'omelette and chips', it jars and makes me doubt the authenticity of the rest of the menu. As the adage goes; jack of all trades, master of none.
But hey, we weren't forced to order Mac and cheese followed by moules mariniere (although that was a stomach churning option) and what we did choose was pretty decent. A starter of deep fried white bait was really tasty; crisp and deeply savoury. Disappointingly, the promised 'Bloody Mary ketchup', which might have helped cut through the eventually samey plate of fish, seemed to be straight Heinz. Mushrooms on toast topped with a duck egg were a sound concept, the yolk stood pleasingly proud and golden, the bread well toasted with a pleasing sweetness. The fungi were however overwhelming; under seasoned and in abundance.
Moving onto main courses, a ham hock hash topped with a duck egg (the ubiquitous 'consider me a gastro pub' symbol. Judging by the menu The Bull had ordered a job lot) was bang on. The satisfyingly chunky bits of meat were flavoursome and encased in a crunchy fried coating, an excellent foil for the runny, rich and smooth egg yolk. Proper food, the kind of thing you might crave for Sunday lunch to cure the hang over and wash away the taste of bad gin, or is that just me? A side order of chips was a little soggy but seemingly impossible to stop munching through. The pot roast chicken and roast potatoes with buttered cabbage were less successful. The chicken lacked flavour and the potatoes were bordering on burnt. The cabbage was better; lashings of salt, pepper and butter often have that effect on vegetables. Unfortunately putting this dish on a 'trendy' wooden board was an idea not properly thought out. Rimless, purely aesthetic dinner receptacle equals gravy all over table and lap.
The short list of puddings was far more cohesive. Classics like treacle tart and crumble all around the £5 mark. Chocolate brownie was tasty and not quite as rich as it looked although the pastry case was unexpected and superfluous. The accompanying vanilla ice cream was comprised of too much ice and not enough cream. The white wine recommended by our waitress was totally quaffable and the service was good, friendly and prompt. In terms of value it was pretty standard pub prices, but in a market where some really fine pubs are offering fantastic mid week prix fixe menus, the competition is stiff and expectations high.
It is safe to say that The Bull is a restaurant whose success relies upon the convenience of its location. This is not a destination eatery; there won't be a foodie pilgrimage to the Westfield. The Bull is a pub that does food rather than a 'gastro pub'. But if you fancy a burger and a beer after conquering the commercial juggernaut, and you don't go in with any great expectations, then you will probably have a fine time. Hopefully the Ham Hock Hash will still be on the menu.