Va Bene in Brewer Street is located at the opposite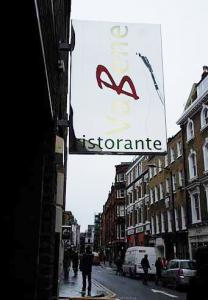 end to one of my favourite restaurants, Randall & Aubin. It's a completely different vibe up at the Soho End of course, , more uber cool and glam-grunge. What a difference an 'end' can make eh? I couldn't imagine the trendy R & A crowd venturing down to Va Bene, but it seems I was wrong, as there were an interesting mix of people the day I went for lunch.
I rocked up on a rainy day; chucking it down it was. The kind of weather that normally convinces you to stay at home; glad I didn't. Once I got settled, in their cosy, warmly-lit and almost cave-like basement, I very quickly forgot about the gloomy frizzy-hair day upstairs. Glancing at the tasting menu ahead of us, whilst quaffing a glass of Pinot G, I realised the seasons could change in the time it was going to take us to get through this lot. Good God, it's been a long time since I managed 7 courses at lunch, but I managed this one, and this is why.
A classic selection of antipasti were served in 'tapas' dishes on a raised wooden bridge, lengthways down the table. What a clever idea. The space on the table wasn't compromised and the aromas of the food met the nose without even a tilt of the head! The chicken livers with little pieces of poached pear and a rich balsamic glaze were sublime. The calamari was light and crisp; delicate slices of Parma ham were perfectly sweet and well-aged; vibrantly green, gob-stopper olives tasted freshly picked and the smoky, char-grilled bruschetta was topped with garlic and tomatoes and drizzled in a rich, virgin olive oil. We could have stopped there; it was enough food for lunch. But we didn't.
Next came smoked salmon with crab, celeriac & beetroot salad – fine flavours that worked effortlessly together. The salmon had a wonderfully firm, clean texture which made me think it must be wild, not farmed. Next up, two delightful little cappuccino soups – forest mushroom with truffle oil, followed by lobster & tomato bisque; big, pungent aromas from the truffle oil and richly intense flavours from the bisque. The sautéed scallop parcel with fennel, lollo rosso and white wine was very enjoyable but not overly remarkable. However, the homemade pasta with a rich, porcini, prawn and speck sauce gave this tasting menu back its oomph with flavours to knock your socks off; or give you chronic indigestion if you over-did-it.
The almost unwanted grilled lamb cutlets were succulent, tender and cooked to perfection. In the aubergine and lentil accompaniment was where Patron Philippe's experiences and influences were evident. The use of cumin was very apparent but it didn't overpower or camouflage any of the ingredients; it merely gave them that punchy lift they deserved.
Finally, a selection of desserts. The obvious ones were there like tiramisu – not the best I've had, too much mascarpone, not enough coffee soaked sponge – and pannacotta – not the best consistency, a little heavy on the gelatine it seemed. But it was the chocolate fondant that got everybody talking. A pudding as light as my daughter's lashes, encasing a rich, chocolaty, gooey warmth that flowed with a gentle prod! The last time I had one this good was at Il Convivio in Belgravia. Their German chef, Lucas Pfaff, cooks some of the most inspiring Italian food I've ever had the pleasure of eating. And here at Va Bene, this Swiss-French chef and Patron, Philippe Seiller, is setting some pretty high standards too.