8 Boyces Street, Brighton. W.Sussex. BN1 1 AN www.coalshed-restaurant.co.uk
Despite being sent into a rage by the town's car parking, Nick soon finds all is well when he tucks into the superb food at Brighton's Coal Shed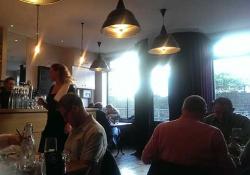 '£8 for two hours parking, rising to £15 if you go into a third hour.' I'm reading the tariff on the car park wall with a rising sense of disbelief. This isn't central London and what's more it's a Sunday, how can they justify this? Clutching my parking slip and making the kind of tetchy noises you do when you're getting on a bit, I head off to lunch. This better be good is all I can say, to no one in particular.
Brighton is full on this suddenly sunny day with a mix of tourists and the local cool people. Everyone in Brighton is a graphic designer by day and a DJ at night, plus there are lots of men my age who never gave up on Oasis and still dress the way they did all those years ago, an effect now compromised by the small child they are leading by the hand as they monkey walk along.
It's a town not short of places to eat; from the standard seaside food which is revolting and awful and yet still somehow strangely attractive, to lots and lots of little places that would be quite at home in Hoxton. There's definitely income about in Brighton and it is very disposable.
The Coal Shed comes recommended by people I know. It's just outside the hip Lanes area and close to the far from hip Churchill Square but its heart belongs to the former. A converted pub it's been stripped back to stripped floors, bare tables and whizzy waitresses. It's a relaxed unfussy feel.
Sunday is roast day for most, and very fine they look too and I like the use of purple carrots, but it's not for us. There's also a cut down a la carte on Sundays plus some specials and that'll do nicely.
Mushroom soup comes in a jug to be poured over my garlic arancini, a bit of theatre that works. The soup is magically mushroomy; every bit of flavour has been teased out and the thickness is just right; enough to coat a spoon but not block an artery. The arancini, God's answer to what to do with leftover risotto rice, is grease free and just garlicky enough. The whole dish is a plate-wiper.
P's Beetroot Cured Salmon with heritage beetroots, cucumber and buttermilk looked very toothsome, but at first didn't do much for her. As time wears on she mellows into liking it more. It is certainly very good salmon, beetroots are always a good fit with this fish and the buttermilk's characteristic sourness is a good foil for the sweetness of the beetroot, which can easily overpower.
There's no particular reason to think seaside towns do better fish that those inland anymore, indeed most of the good stuff barely sees the quayside before being rushed off to the big cities, but I know there are good fish merchants in nearby Newhaven so local fish we have.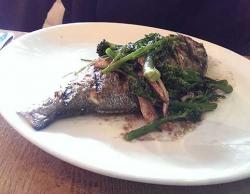 P's sea bream has probably been cooked in the restaurant's Josper, that fearsome charcoal grill/ oven that delivers intense heat. Served with its head on, hooray, the bream is she declares,'gorgeous'. The skin crisped but the flesh still moist, it's surrounded by smartly cooked broccoli heavy with the delicious saltiness of anchovy. It is a complete winner of a dish.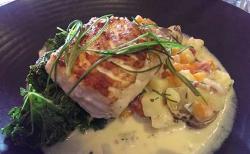 The Josper had been at work on my cod too I think, it is gorgeously cooked and a proper thick piece, not like the bits you get in the supermarket that suggest a cod is only the size of a sardine on steroids. The thickness let the exterior grab seared and smoky flavour and still cook through without overcooking. It sits in a chowder of bacon and vegetables and is silently adored by open-mouthed, jewel-like clams in their shells, each one a briny bite. Very good indeed and we shared some crusty chips that may well have been thrice cooked to Heston perfection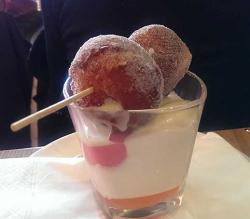 And so to pud. P thinks her rhubarb and custard fool with vanilla doughnuts one of her best desserts so far this year. I'm denied a taste as she scrapes the glass thinner, but I'm happy with banana bread pudding with toast custard and miso ice cream. I love the flavour of miso but had never considered it for a dessert dish before. Still, that's what chefs are for, to take you into new places.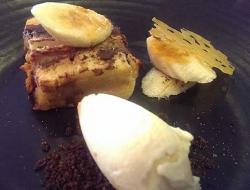 Which is an open goal for a smart ending. Try a new place yourself if you're in Brighton, the Coal Shed is doing excellent food at a fair price and my lovely hunk of cod in particular lingers in my memory.
And, you'll no doubt be pleased to hear, I got back to the car before I had to pay £15 to the thieves who run the car parking. Result all round.