The Elgin, 255 Elgin Avenue, London W9 1NJ theelgin.com
I've been schooled rather a lot lately. My trendy business partner taught me to use "manors" to describe where I live; apparently it's a funkier, more urban and new-vibe approach to language. She also taught me the Cat Daddy and despite the fact I absolutely rock it, she imposed a lifetime ban on busting out the move in public. I'm still permitted to practice my new words and phrases but have to work on dropping the automatic alteration to my voice, which apparently I do to sound more "street".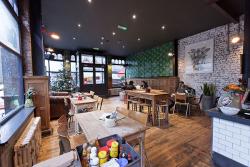 Maida Vale. I'm here frequently despite living in Clerkenwell, which in a manner of speaking, is me manors, ya get me breadbin? The area's grown on me quite a bit. It's clean and it doesn't try hard to be cool; plus there's some culinary gems dotted around that keep you fed and watered with good produce. Ok there's only one tube line and each time you go past Warwick Avenue you get that bloody song stuck in your head, but there's worse songs and singers than the lovely Adele. At least she hasn't called herself something ridiculous like The Female Boss or crashed Instagram through fame-hungry desperation.
A good place to start your gastronomic tour of Maida Vale is The Elgin, which strikes me as a hip and trendy place – its canteen-style no frills approach to décor is refreshingly simple. The wooden chairs remind me of the ones from school, as do the glasses for water. I suppose the added glitz to the Elgin arguably derives from the clientele, who dress with a casual and effortless coolness and don't peacock themselves. Why would they try? If anything The Elgin is their local, bit more formal than a boozer, but not as judgemental as a restaurant.
My good mate Ron always offers me a roof over my head if I'm out West, therefore the perfect way to repay him is to take him for dinner a few hundred metres from his home. His local insight reveals that the place has recently been refurbished, so it's good to get his opinion on the new versus old approach. His first tip is that The Elgin was always known for making a decent Bloody Mary and offering a handful of variations on the traditional recipe. Thankfully that's still the case and I'm chuffed with their version of a traditional Bloody Mary, one of my top three cocktails.
You'll be able to find something amongst the starters that will tickle your fancy thanks to an eclectic taste of European dishes. The traditionally English chicken liver terrine with pickles is nice. The asparagus on a bed of cured ham with a poached egg on top is equally pleasant. Yet the real winners are the Spanish influenced starters. Slow-braised beef croquettes retain a crunchy breadcrumb coating that's light and generously stuffed with tender beef, with two variations of mustard as accompaniments. However, you have to try the chorizo in port, which I thought would be crispy and chewy slices of chorizo fried with port. Wrong. Large chunks of chorizo sausage are slowly braised in a deeply rich port sauce for hours. Much easier on the jaw with flavours bursting out of the chunks and gushing around the mouth. It's brilliant.
Main course was a slow roasted lamb rump, pea puree, edamame beans and garden peas with gravy. Nicely pink lamb with a skilful outer crust, delicately charred and just the right amount of salt. It's not flaking away like a slow-cooked piece of lamb, but not chewy enough to be called Wrigleys. The peas and beans are fresh and light, the puree being arguably the heaviest component on the dish and even that's lighter than Posh Spice on a hoverboard. The gravy isn't thick or reduced down to take on a dark colour, it's transparent and very tasty. I'm into my Riesling at the moment and they've got a good one at The Elgin, which manages to match the meal throughout.
To be frank we're chock-a-block by the time dessert arrives but it'd be pretty rude not to demolish something. A chocolate fondant and lemon curd with raspberries are brought to the table. A thick and heavy fondant with the chocolate pouring out after the first spoon swipe, mixing together with a creamy vanilla ice cream. It's really good in all fairness but wasted on me at this stage. I'd not usually go for lemon curd but it's very nice, especially with the combination of sugar-coated raspberries. I find myself opting for it over the fondant purely because it's lighter.
I'm blessed with the restaurants and pubs on my doorstep in Clerkenwell, but Ron's got a real gift in his manors with The Elgin. Unlike me it doesn't have to take lessons in dancing and words to be cool, it's just got that je ne sais quoi that keeps it loved. It doesn't have a gimmick, people aren't coming for one signature dish or a particular drink, they're coming because it simply ticks all the boxes. Good food, nice drinks and a cracking atmosphere. Go for the chorizo and Bloody Mary.