The Empress, 130 Lauriston Road, VictoriaPark, London E9 www.theempressofindia.co.uk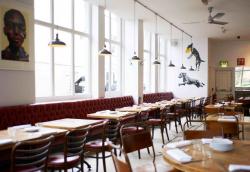 I've committed the cardinal sin to which no self-respecting reviewer should succumb: on the day of my reservation at The Empress I googled it and read their reviews to date. Every one a winner, but then I'd already made my mind up I was going to like this place.
Victoria Park is my old stomping ground and I hold great affection for this patch of green. It's pretty, vibrant, diverse and the people are laid back and friendly. When I lived here I was earning a pittance so could never really afford to eat in the trendy cafes of Lauriston Road, but many a fine night was had on a liquid diet at the excellent Royal Inn on the Park opposite with my dog, my cousin E and her artistic friends who happened to live mere footsteps away.
It was for these same sentimental reasons that I brought her along to try out The Empress. We found a place to park just around the corner, following some helpful 'right hand down" calls from a passing churchgoer, and were shown to our window table by a sweet natured girl in a stripey, diner-style dress. The room is big, pared back industrial chic with utilitarian, bendy-ply school chairs, softened by the addition of low-strung pendant lighting and rows of nodding narcissi.
The spring theme was prevalent across the entire food and drinks menu. Three quarters of the room had ordered the cocktail du jour, a Prosecco Spritz (£6) made with the Italian aperitif, orange Aperol, so we followed suit. It was long and refreshing and lasted the whole meal.
The cooking, by local lad Elliott Lidstone (formerly of Michelin starred L'Ortolan and Chewton Glen), is highly seasonal and 'of the whole animal'. Vegetarians like E will find their choices a tad limited but what is there is imaginatively executed and delicious. Prices are bloody brilliant. Sourdough bread from the E5 Bakehouse down the road comes in abundance, along with as much still or sparkling water as you can drink for just 50p per person. I know…
There are nibbles, then starters, then starters that can be supersized to mains, mains and then puddings. We over-ordered. E went gaga over a plate of Padron peppers (£4.50), fried in olive oil and salt. For me they were bitter and not at all spicy but she thought they were great and wolfed the lot. I went for the crab on toast, thinking it would be a measly little mouthful. For £5 I got the best part of half a crustacean loaded onto another piece of toasted sourdough (beware the downsides of unlimited anything).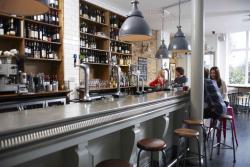 Our starters proper came at the same time as the above, which was a bit off-putting as they were hot so demanded to be eaten before the nibbly bits. No matter, we treated it like tapas – there is something of a Spanish influence to the first half of the menu anyway – and tucked in. Her lentil, piquillo pepper and smoked paprika soup (£4.75) was light, richly flavoured and nicely textured while my snails with bone marrow and wild garlic (£6.25) was a complete revelation. I had hesitated as my first and only experience of bone marrow had been massively disappointing – just tasteless gelatine goo – but this was unctuous and savoury, cooked down with onions and the herb garlic, littered with plumptious little critters and presented in the half shell, as it were. Here the sourdough came into its own as an edible sponge with which to clean my plate.
Regards mains, owner Michael who had introduced himself earlier had already tipped me the wink about the braised shoulder of lamb with bulgar wheat and (more) wild garlic (£14). I generally steer clear as slow-cooked joints on the bone leave me cold, but when I saw the girl next door order it I dropped my prejudice in an instant. Two little roundels of pulled, roasted meat came nestled in a green sea of springtime, vitamin goodness -Englandin April on a plate. E's pearl barley, pea, feta and pine nut risotto was similarly green, light and wholesome and evenly priced at £11.
To complete the evening we took two forks to a baked cheesecake (£5.50), dressed with segments of blood orange and a scoop of citrus sorbet – was there a hint of lemongrass in there? It was wonderful either way and a really strong finish to an excellent – largely orange and green if you think about it – night out.
In between googling the restaurant and putting on my lippy to head out, I had been forewarned that The Empress had already accrued a reputation as a haunt for yummy mummies, as though that were some sort of reason to think twice. And, sure enough, the first thing we saw when we walked in was a cluster of buggies and a happy group gathered over a convivial cocktail. So what? Hoorah for any restaurant that welcomes the whole family, we say, particularly when they're not called Giraffe or Frankie and Benny's and serve imaginative, delicious food like this at such reasonable prices. YMs, consider yourselves forewarned and forearmed!