35, New Cavendish Street, London, W1G 9TR  thefatoftheland.co.uk
Google'The fat of the land' and up comes Keith Flint doing his impression of Vyvyan in the Young Ones. There was once a Prodigy album called Fat of the Land, you see.
Is a Catalonian restaurant of the same name going to be a firestarter? Well downstairs in the converted Duke of York pub it's actually  pretty cool. Attempts to de-pubify the place have involved hanging jamons in the window like meaty Christmas decorations. This presumably in homage to the average tapas bar in Spain, where chunky legs hang over your head sweating gently into their cups. Rather like the clients.
The bar area is having a bit of an identity crisis  – men in suits are trying to treat it as if it was still their local by standing up to drink pints. As the tables are so close to the bar this makes getting across to the restaurant stairs awkward and the suit men seem a bit irritated when you try. Even so there is a good ambience downstairs and the food aroma is encouraging.
Up the stairs things change; downstairs is where you really want to be in a Spanish place as the food is about noise and crowds. Upstairs you can feel strangely left out of the action like parents at a teenage party, confined out of the way until required to play taxi.
There is a subtle niff of fresh paint still, but that will pass. The room has a lot of bare brick, a look so ubiquitous these days plasterers must be suicidal'Loadsa unemployment'. It's okay up here but early evening, and with few customers yet  in, it's a bit gloomy too.
Spanish dining in a restaurant, not a bar, also presents ordering challenges. We opt to treat tapas as a starter, which of course they aren't and there are genuine starters on offer, but we don't feel that's going to give the overview we're after. It's a long tapas menu and being but two we couldn't do it justice. You need a coach party to review a tapas place properly, or deep pockets and a fat stomach. I have only the latter.
Sauteed mixed mushrooms with garlic, white wine, poached egg and truffle oil certainly had a variety of mushrooms in it. I counted over six types but was unsure if they were fresh or from a jar. They had the albino look of jarred but with more bite, either way they formed a decent slippery forkful, especially after the nicely runny poached egg eas broken and stirred in. The truffle oil, so often overdone, was subtle. Not bad at all.
Croquetas of ham were a tad gluey, but had a crispy shell and sweet beetroot slivers to set them off, also crispy were salt cod fritters with honey. These had retained just enough salinity from the soaking to make them lip-smackingly addictive. Served as three, they provoked a small fight as we tried to share like grown-ups.
Big plates, racions, of cod confit, sauteed baby spinach, tomato and  rosemary compote, and for madam pan-fried chorizo and smoked morcilla all on saffron soft polenta, performed pretty well. The thick, juicy cod lavishly piled onto vibrant green spinach, its licked-lamppost tang offset by the sweet tomato and what I always find the rather medicinal taste of the rosemary, Rosemary is, as Ophelia said, for remembrance so I don't know why I can never remember that I don't like it all that much.  An elegant dish, light on the stomach and smartly plated.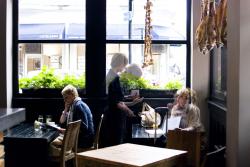 The pan fried chorizo and  smoked morcilla, saffron soft polenta was meaty. The chorizo coming in big chunks and with the slight flavour of a frankfurter, not in a bad way but that franky feeling wouldn't go away, it must be something in the way it's made. I'd have liked the chorizo a bit more seared, it doesn't start singing until it's suffered, but it was still rather good.
The smoked morcilla (black pudding) was a new one on me. I love morcilla in almost all its dark incarnations, but I've never had it smoked before, I will have it again though. As to the polenta, well I've never seen the point of polenta myself, but this was smooth and golden and P liked it a lot even if I looked on rather dubiously.
Crema Catalana was runny, too eggy basically not set enough so the unctuous creaminess was missing, and I did fear I that was eating raw egg, but I'm not a small baby, OAP or pregnant so I survived. P's tarta de Santiago was embedded with almonds as it should be and was pleasingly damp and heavy.
A rival to the big boys of Iberica, Barrafino, Copita et al, the fat boy probably isn't. Not upstairs anyway. Downstairs I'd have been happy to work my way through the menu, which had plenty of things I'd like to try sometime. Chef seems to know his stuff and the place is a welcome addition to a rather backwater part of London. No firestarter then, but warmly recommended.
Images from restaurant's website.