The Milroy, No 5 Hamilton Place, W1J 7ED www.themilroy.com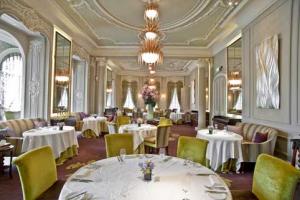 There's an awful lot of wood in Les Ambassadeurs club. Carved and tweaked and panelled and mitred it's everywhere, you can't see the trees for the wood. Not unless you look out the window over Park Lane that is.
It was probably built around 1810 before falling into the hands of Leopold de Rothschild. Rothschild drastically remodelled the building and commissioned Florentine master wood carver Chevalier Rinaldo Barbetti to create the library and staircase. So he was the man with the chisel, the mug of tea and the glib assurance, 'no problem signor, it will be done by Thursday'. In fact it took around 14 years to complete. Bloody builders eh?
The restaurant, The Milroy, is now open to the public at lunchtime. This is probably less a generous gesture than it is pragmatic, there's money to be made so why not let the great unwashed in when members are least likely to bump into them?
It's chance for us all to see the famous interior and eat in a dining room boasting Murano glass chandeliers, a decorative Georgian ceiling and an internal marble colonnade which leads onto terraces, with views over Hyde Park. Nothing wrong with all that, it makes a change from the ubiquitous high-backed brown leather chairs every restaurant seems to have these days.
This is grand stuff and comes with squadrons of waiters who dive and swoop among the tables, occasionally suffering the odd mid air collision as they go.
The Milroy's Head Chef Simon Foster, was previously at La Tante Claire and Claridges and his menu is what you would expect of a club – something for everyone from a worldwide choice – you can't blame them for covering all bases. The Somerset Brie in breadcrumbs sounds too close to the freezer section in Sainsbury's though, but the Seared Yellowfin Tuna on a basil and cauliflower puree with tomato coulis could be good.
It actually comes, unannounced, with a thick crust of black pepper around each piece of tuna. Verging on being too strong for the tuna, it just about works but should have been mentioned on the menu. The tuna is well-seared, nice depth of cooking – the core of the tuna still rare. It's a not a bad little dish, despite the cauliflower, which is an unloved vegetable in general, and it looks pretty on the plate too.
C's Portland King Crab, which I pretty much force her to have, gets a good food report 'fresh, light and juicy, with a not too intrusive mango dressing around the edge of the plate, topped with a lovely mix of shoots and leaves.'
The waiter insists C has the skate not the halibut that she had her beady eye on. We speculate that maybe they have a surfeit of skate, but he's a hard man to resist so she gives it a go. It's the classic method; pan-fried, capers, butter, potted shrimps, you know the drill and so does chef
She was pleased that there was plenty of fish on the bone and that the citrus butter with capers and brown shrimp came on the side and not on the top. I was pleased with my calves liver, bacon and mash, another club favourite but here done rather well with the liver thinly sliced but still pink in the centre and with excellent smoky charring on the outside. The dry cured bacon was crispy and the rosemary gravy made comforting fjords and lochs in the mash.
And so to pud, surely where any clubby restaurant should shine and The Milroy didn't dull down. Crème Brulee came artfully plated so that on three sections came the Crème, some delicate shortbread biscuits and a tangle of gently cooked rhubarb. The Brulee took three whacks to break, which is about right, and the crème was suitably unctuous.
On C's side an apple tatin initially scared her with its size, but proved to be 'light as a feather' and the caramel sauce nicely 'toffee apple.' Tatins can be tatty things but this was a decent effort.
Something different for your lunch The Milroy is open Monday to Friday from 12pm to 3pm and there's a daily changing set lunch menu which will be priced at £25.00 for three courses.