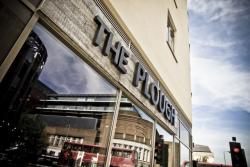 If a Tex-Mex steak house fell in love with a vintage gastro-pub, their baby would probably look like this place. The Plough Bar & Kitchen, one of Young's more independent offspring, is a post-modern haven of old and new, British and American. Amongst mis-matched chairs and uneven timber table-tops you still get that airy feeling with all the natural light from the expansive windows. It's hard to pin down exactly what look they're going for but it works. I felt comfortable and it suits The Plough's self-described Anglo-American concept.
What started with a New York slant on British favourites is changing thanks to their new chef. Born in Texas, raised in Florida and trained in Holland, Chef Josh has a good feel for how far he can take the American spin on such British classics as fish and chips, pork pies, scotch eggs and bubble and squeak. Since taking the reigns at The Plough, Chef Josh has introduced a southern feel to the menu by including pulled pork, cornbread and using fruit, Cajun seasoning and lots of chilli that leaves you feeling bold without being smothered by soul food.
As the sun slowly set on our rather early dinner and we waited for our starters absorbing the cultural and time-bending eclecticism, it seemed perfect that a man on a penny-farthing should ride past our window. Perhaps he was part of the look. We had a hard time choosing our starters from the small plates range and the blackboard advertised some mains that also took our fancy. I drank the house wine; a young and fruity South African chenin blanc (Keate's Drift) and my +1 sampled the Sierra Nevada draught.
For starters we chose the pulled pork sliders and popcorn shrimp. The tiny burgers were filled with shreds of roasted pork and served with a pot of house-made applesauce.The popcorn shrimp came in a little pot accompanied by a spicy, pepper dipping sauce that almost stole the show.
The mains came in on a giant wooden board, laid out like a medieval picnic. We were given white plates with a deep blue rim, which reminded me of Sheffield enamelware and farmhouse cooking. The blackened tuna came nicely cooked and expertly seasoned as did the Cajun-spiced crumbed fish served with sweet potato fries, spicy tartare sauce and a wedge of pink grapefruit.
There were super-chunky truffle fries, corn bread and the hotter-than-Hades parrot wings. The parrot wings are a house special, deep-fried chicken wings rolled in an almost intolerably spicy, tequila sauce. My favourite was the deep-fried poussin. This baby chicken had been brined, a technique very popular in the states that infuses the meat with moisture and depth of flavour. Then it was deep-fried whole and served with a tangy green mango salad. Crispy on the outside and so tender on the inside, this was a fine tasting bird.
Chef Josh's discerning choice of produce is evident and he has spent time tracking down just the right ingredients to authenticate his hometown flavours.
With large tables, sprawling velvet sofas and lots of open spaces, The Plough is perfect for parties, gatherings and after work socials. Plenty of room at the bar means plenty of room to stand around and graze on the small plates of Anglo-American fare.
Price wise, this one's hard to judge, as it is not really a restaurant and a bit more than a pub. For the price of the small plates, I would have liked just a little more in my pot and on my plate, but that's probably because I have a tendency toward gluttony.
The evening was ramping up just as we were leaving. A large group mingled at the bar and loafed around on the lounges. After all is said is said and done, I'm kind of glad Texmex romanced Gastropub, because their lovechild is an unsual character, easy to love and makes a welcome addition to Clapham Junction.