1st Floor, Kingly Court, Soho, W1B 5PW therumkitchen.com
I've always been a bit afraid of Caribbean food. Saying that, my experience has been limited to some ill-judged, late night jerk chicken that was coated in so much scotch bonnet chilli sauce it took the skin off the roof of my mouth and some questionable rice and peas. To be honest, Reggae Reggae sauce is about as island spice as I get nowadays, but when the invite came to try the achingly cool new Rum Kitchen in Kingly Court, Carnaby Street, I couldn't resist the lure of the exotic unknown.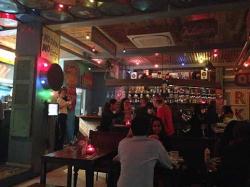 The Carnaby venue is the spawn of The Rum Kitchen's buzzing Notting Hill branch and the décor follows the same funky vibe: multi-coloured lights,'one love' slogans and a rhythmic soundtrack of reggae and calypso beats thrumming off the oil drum ceiling. Even the charismatic maître d' was dancing as she weaved through the crowds of after-work twenty-somethings and showed me and J to our table.
At the back of the restaurant it was dimly lit and, shall we say, snug. The tables were so tight that the waitress had to pull them out to let us to shuffle in and when it filled up we felt as though we had practically joined in with the surrounding diner's conversations. I got up to use the bathroom once and practically sat in someone else's dinner as I apologetically sidled out. I'm exaggerating, but it's an intimate squeeze if you're on the back row of tables, diners sitting in the snazzy window seats get a superior view, although, arguably, not as much of the party atmosphere.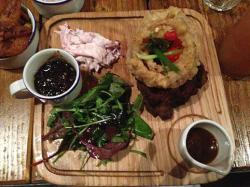 We soon came to understand why the napkins were actually chef's tea towels. The Rum Kitchen is far too laid back to worry about finger bowls so by the end of the first course of ever-so-slightly chewy but finger-lickingly sticky BBQ ribs and roti and chokra – wee pots of smoked aubergine and spiky burnt garlic and tomato dip – they made us look like we'd been working in an abattoir.
Then came a portion of the world's juiciest chicken thighs marinated and deep fried in a Jerk seasoning that actually tasted of individual spices instead of thwacking you round the face with just heat. The chilli flavour came later as an after burn from the rich, rum BBQ jerk ketchup and side sauces of smoky rum jerky, hot swamp sauce and scotch bonnet mayo.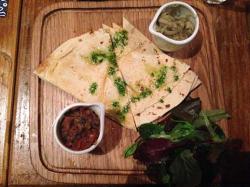 J didn't say a word as she powered her way through her soft shell crab burger with spicy tamarind sauce, ginger aioli and guava-lime relish, only pausing for a glug of rum sour and to sigh contentedly.
There isn't too much refinement in the food here, the ginger aioli was only vaguely gingery and the side order of plantain came soggy instead of puffed and crisp, but the not so brilliant was tempered by the excellent like the punchy, tar-esque chilli jam that came with the plantain and the exceptionally good pineapple slaw that arrived in a fruity, dribbling mound alongside my blackened jerk thighs.
The dessert menu was sparse, with only ice cream, tropical-flavoured sorbets made outside of house and two types of cake on offer – banana and chocolate with the ubiquitous lashings of rum sauce as well as a healthy selection of digestifs.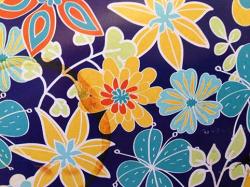 To be honest, after a particularly good lemon sherbet cocktail, a tall, frosty Caribbean take on a gin sling and a cola tonic  – a limey, rummy, herby drink that will forever now make real coca cola taste disappointingly of sweeteners and battery acid – I wasn't overly interested in pudding. There is life beyond the cocktail menu with a decent wine list featuring some suitable strong-armed numbers like a zesty Chablis to stand up to the food that's laced with rum, lime and chilli, but The Rum Kitchen doesn't feel like the right place swig a glass of sauvignon.  
After extraditing ourselves carefully from our table and fighting the urge to dance our way out to a backing track of Damien Marley, walking out into the upmarket surrounds of Kingly Court came as a bit of a shock to the post-rum system.  It was akin to the sensation you get when leaving a club: everything is unnaturally quiet and your ears are ringing. Except, instead of feeling a bit queasy, after a visit to The Rum Kitchen you'll leave with a full stomach and the taste of the Caribbean lingering on your tongue, even if you'll be vaguely wondering if the table next door heard your conversation about that embarrassing doctor's appointment.