The Three Stags, 67-69 Kennington Road, London, SE1 7PZ www.thethreestags.org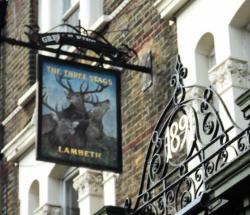 Sitting on the corner of a crossroads, with the Imperial War Museum opposite, The Three Stags could best be described as a prime example of an old London pub. Built in 1891 the pub and its bar has many original features including a snug that looks like it's been unchanged since it was originally fitted out. Under the ownership of Richard Bell, The Three Stags has, like many London pubs, been transformed, adding 'gastro' to its description in recent years. In talking to Richard, he is an enthusiastic supporter of sourcing produce as locally as he can, indeed, some from his own rooftop, and in recent times he has become a member of the Sustainable Restaurant Association. He proudly told us that in his short period of membership he has already fulfilled 15 pledges with the association.
So there we were, sat in the snug of The Three Stags, quaffing a sharp and fruity Sauvignon Blanc and my mind wandered back to those early days of Coronation Street with Ena Sharples and her gang (that dates me, but I was a child at the time!) and I thought how things have moved on, in some ways, but how many things have survived. Original features are very much in vogue these days and this place is all the better for them; how many old pubs have been wrecked by being gutted and modernised? This place has largely escaped that trend and I sincerely hope it continues to do so.
Anyway, to the food, our purpose for the evening, and simply because we were chatting, looking around and enjoying the atmosphere it took us a while, as well as over half the bottle of Sauvignon Blanc to order anything. Starters arrived; the Chiltern Farm ham hock terrine was great, the meaty hunks in it very well flavoured. This had good support from the home-made piccalilli, which had some bite to it, and the crisp honey spelt toast it was accompanied by. The smoked rainbow trout was another good dish, the trout had been bought in, but it was served with a watercress and 'rooftop' radish salad, together with a dill and mustard dressing. Having seen from the menu that The Three Stags grow radishes, dill and some salad leaves on the roof, as well as having a beehive up there, I wanted something that was home grown and yes the radishes were nicely crunchy and flavoursome. The dish came together well.
The Chiltern Farm slow roast belly pork was a pretty thick hunk of meat, I don't think I've seen belly pork quite so thick anywhere else; it was soft and a bit sticky as well as having a good crunchy crackling. It was a joy to eat alongside its accompanying bubble and squeak with black pudding and apple; it's a good hearty dish that's full of flavour. The 32 day aged Welsh Black Beef rib eye steak was served medium rare, of course, nicely juicy and tasty, the steak was supported well with some watercress, great chips and a pretty good béarnaise sauce. We decided not to have sides we didn't think we'd need them and we were right.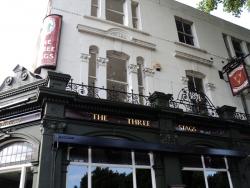 We decided to share a dessert and after that go for the selection of British cheeses. The gooseberry mille Feuillet with vanilla Chantilly and elderflower was the perfect choice as it was light, tart and refreshing. I'm not sure if I could have managed cheese after the Chocolate fondant which called to me and was tempting, but I resisted, for the sake of the cheese. The cheeses were very good indeed quite generous little portions of five cheeses that were all new to me. Harbourne Blue (Totness, Devon), Tunworth (Herriard Hampshire), Sparkenhoe (Upton, Leicestershire), Ardrahan (Kanturk, Ireland) and Spenwood (Risley, Berkshire) all good full flavoured little gems served on a board with some excellent bread, oatcakes and trimmings, this was a great way to finish the meal.
The Three Stags is a welcoming and friendly place, their staff are relaxed yet efficient. Apart from the usual offerings at the bar, the pub has a decent wine list with a good selection by the glass; after we'd polished off the Sauvignon Blanc we had a bottle of Chapel Down Rose, which was very good indeed. Apart from the main bar, The Three Stags also has a cavernous function room, that's modern and bright and doubles up at times as a picture gallery.
Although walking into The Three Stags was a little like walking into a time warp, we had a great time there and enjoyed some really good food. Given that we arrived there at 7.00 pm and didn't leave until almost closing time, that says it all.
For more information about the Sustainable Restaurant Association go to the SRA site or read my article about what they do.