Tsuru, Bankside, 4 Canvey Street, LondonSE1 9AN www.tsuru-sushi.co.uk
It's half term, the kids are out of school, and a lot of people are taking a break from work, so it's going to be a week of miserable weather, right? Well no, surpringly, as we stroll down Southwark Street towards the improbably named Canvey Street and our lunchtime destination, Tsuru, the sky is blue, the sun is shining, and all is right with the world.
Tsuru is a burgeoning chain, with two outlets so far, one in Bishopsgate and the original in Borough. The food is sushi, and broadly similar to what you might find at the bigger chains on the High Street. But at Tsuru, everything is made in-house, including their curry sauce, egg tamagoyaki and even down to the chicken stock. As well as eating in and take-away, we understand that Tsuru also deliver.
Although Tsuru occupies a relatively small space, there's plenty of seating inside, and the bonus of outdoor tables, so we took the opportunity to make the most of the summery weather and sit outside. One of the great pleasure of Japanese food is trying many different things, and we started with two sushi boxes: the vegetarian selection includes maki and inaris (seasoned tofu), it was tasty and quite substantial. The Tsuru taster box is a selection of nigiri and maki, with ingredients such as prawn, mackerel, sea bass and tuna, all of which were fresh and full of flavour.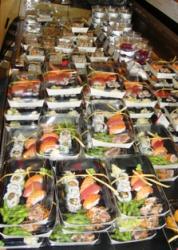 After these, we had two of Tsuru's hot dishes: salmon teriyaki came with sticky rice, and was delicious. The fish was perfectly cooked, retaining firm texture and juiciness, and accompanied by the silky, sweet yet tangy sauce. Chicken katsu also came with rice, and was another winner, the chicken was perfectly tender and moist, the coating crispy and delicious; the curry sauce had tang and spicy heat, but wasn't too much for the delicate chicken.
Japanese cuisine tends not to offer much in the way of dessert, and the menu at Tsuru reflects this, with just the one option – but it's a good one. Chocolate brownie with green tea ice cream was a nice way to finish our lunch, the brownie had an appealing, fudgy texture, and good depth of chocolate flavour, while the ice cream had a pleasant delicate taste.
Tsuru has a wide range of drinks on offer, including green tea, sake, and Japanese beer, but there was something about sitting outdoors on a beautiful London afternoon that compelled us to wine. We chose the Sybille Kuntz Estate dry Riesling to go with our food, and it was a good choice, crisp and fruity, but did not overpower the sushi and other dishes.
Throughout our stay at Tsuru, it was very busy, and has clearly become a popular choice. It's easy to see why: when food is this tasty, and has the advantage of being a healthy way of eating, what's not to love? The warm weather was an added bonus, but we'd happily go back to Tsuru, rain or shine.