Tuttons, Covent Garden, London www.tuttons.com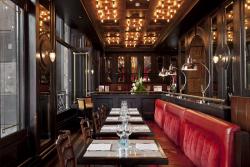 I could have some may say, should have, been a thespian. No, honestly, it's true. My past English teacher, Bob, tried to inspire me with some kind words and a private audition to be in a two man play with the school's best actor. I'd read out in class as Lenny, from Of Mice And Men, and having watched the more modern film adaptation in order to effectively cheat on reading the book, I mimicked the voice of John Malkovich. Had I gone on to tread the boards in Covent Garden, you may have been very wise to dine at Tuttons before my sensational performances.
Why Tuttons? There are times for exploring and unearthing restaurants with an open-mind, but there are also times that call for a'sure thing'. If an evening were to be planned around a night at the theatre, then a pre-performance meal should not ruin the occasion. Fortunately Tuttons has a good reputation and has played a leading role in the Covent Garden restaurant scene for decades, so it's an establishment that can arguably be trusted.
The restaurant has an a la carte menu and also a pre-theatre menu for the more time-pressed diners. The dishes are very English, taking fine selections of the country's seasonable vegetables and creating a wide selection of recipes. You could say that there's something for everyone on the menu, but I'd have to attack you for using such a common cliché. Not physically mind, that would be the height of bad manners in such a tip-top jolly good surrounding as Tuttons.
The interior has recently undergone a large refurbishment. It's shiny and impressive, which is what you would expect from any Russell Sage project, without being over the top garish. Plenty of strong, dark wood dominates the walls and ceiling with squares and patterns carving their way into the display. Although we didn't have theatre tickets, it was the perfect atmosphere to bring a dear friend.
My starter was Tuttons cured salmon, fennel, salmon caviar with horseradish and dill crème fraîche. I'll never tire of the fish and horseradish combination and if you haven't tried that, go eat it now, especially smoked mackerel. The crème fraîche held back the bite of the horseradish too much for my taste, but not everyone wants a fierce and fiery attack on their taste buds. Fennel and caviar is a new combination, but it's made it into my black book of recipes and I shall use it in the future.
An 8oz ribeye steak for main course, served with a rocket salad and parmesan shavings, matchstick chips and green beans with garlic. The steak was tender with a nice marble throughout the cut. Matchstick chips lived up to their name by soaking up some meat juices in the tips to provide a crunchy stalk with a flavour packed head. The beans were cooked al dente rather than soggy. A very British main course, Churchill would have been proud.
Jenna and I were pretty full up by the dessert, so we opted to share an English cheese board that had a notably strong smelling yellow stilton that was a real treat for any Cheesehead. There was decent wine throughout the evening, which always helps. For future reference, when theatre tickets are on the cards, it's the obvious choice for a pre-performance meal given the quality of the food, the speed of the service, the plush interior and the location.