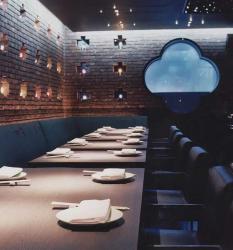 My date is late, I'd mentioned the day before that Yauatcha was part of Hakkasan group and it seems he's gone to Hakkasan itself, luckily not too far away. That explained over the phone he soon bundles into Yauatcha  ready to eat after his brief walk.
An advertising creative director he approves of the style here;  ten years from opening it still looks good with the design and lighting working even at lunchtime to give the feel of being in a romantic fishtank, blues, dark woods and shimmering lights.
That decade ago day-and-night'posh' dim sum was an original Yauatcha concept and it worked, a modern take on the Taipei teahouse with Franco-Asian patisserie on top. The tea and cakes bit has taken a bit of a back seat to the food since opening, but the Michelin star still shines brightly. It's not as cheap as a trolley dim sum place in nearby Chinatown but you do get what you pay for.
To celebrate the ten year milestone, four'secret' off-menu items are on the menu for a limited time and change each week. The secret is that you can only find out what they are by keeping an eye on Yauatcha social channels. So what we had this week won't be available next week, but something just as good will come along. 
Executive Head Chef Tong Chee Hwee's secret Dim Sum Platter of wild fungus and pomegranate; lychee scallop puff and spicy lamb and fig dumpling is just superb. One expects a high level of visual perfection but these still impress hugely.
The finely pleated spicy lamb and fig dumpling is a summery grass green with the lamb definitely spicy, unusually for Cantonese food, but the star is that fig. I've never liked figs much, there's something about the texture, but here the unique flavour really underscores the lamb.
All three of the secret Dim Sums contain fruit, rather unusual for savoury dim sum, but very welcome for the freshness. The lychee scallop puff is an inspired idea, a beautiful swirl of muted browns it bursts in the mouth to send flakes of pastry rushing out like Big Bang re-enacted and as they gently melt away the scallop and lychee glow together. The white of the lychee is indistinguishable from the scallop and texturally they make a perfect pair too, with a complimentary sweetness on top.
Wild fungus and pomegranate has a single pomegranate seed on its roof, a simple style statement. Inside the bunched orange purse the rich mushroom flows onto the palate underpinned by the sweet tartness of the pomegranate. Another mouthful that makes you go'mmm', and not just because you really should have let it cool down a bit first.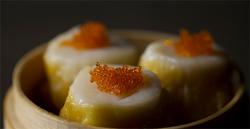 Of course man cannot live on dim sum alone so we supplement with prawn and bean curd cheung fun, with a beautiful and surprising crunch in the centre, and scallop siew mai with its cheerful topping of salty roe.
And, then out of greed, we ate a big old noodle dish whose name I have forgotten, my note pad now awash with chilli sauce and to be honest so am I. Messy eater, that's me.
Finally sated, we have some macaroons to finish. I know they're supposed to be so'over' but what the heck; I was never a trend chaser anyway. They're good; softly chewy and brightly coloured. Does that make me sound like I have infantile tastes? Oh well.
Ten years is a long time in the restaurant game, you have to have something special and Yauatcha has it for sure, even if after all these years no one really knows how to pronounce its name.
Find out this week's secret menu by getting social.
www.yauatcha.com/soho/yauatcha-10/
Twitter: @Yauatcha
Facebook: facebook.com/YauatchaLondon
Instagram: yauatcha.tumblr.com
Tumblr: Yauatchalondon
Hashtag: #Yauatcha10
Photos from Yauatcha