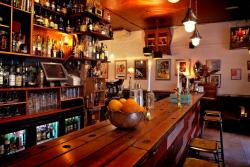 270 Upper Street, London N1 2UQ. www.ziloufs.com
I'd zipped past it on the number 30 bus for years but never quite made it in. Zilouf's, a Mediterranean bar for six years on Islington's Upper Street, has just been rehauled by the same makers as 100 Hoxton.
It's now "Asian Fusion" – still a friendly, neighbourhood bar full of 20-50-year-olds, families, couples – but now with a much more eclectic décor; think 1970s Greek taverna bricking, pianos on the walls, tan Chesterfields, Toby Jugs and curios in every corner. Plus a glitter ball. "I feel like I'm in a junk shop," says A, albeit a nice clean one.
Head chefs Tim Yates, Francis Puyat and James Freeman have between them brought an Australasian and Phillipino culinary influence to bear on the food. Ops director, Pete Clucas, tells us the refurb was devised as "a challenge to the business" – a spring clean derriere kick, perhaps. It still focuses on return custom – 90 per cent of customers are local – with a catchment area from Kings Cross to Holloway Road, but that doesn't stop random visitors stopping by (more of which, later). And they're looking to launch a sister to 100 Hoxton and Zilouf's up in Archway later this summer.
It's great as a cocktail bar. We tried a delicious Espresso Martini – their bestseller, (espresso, Kahlua, cherry liqueur, 37ml of vodka, vermouth and vanilla syrup) – of which they shift some 2000 per month.  And an Apricot Kerfuffle – a bishbashbosh of  dark rum, apricot brandy and ginger beer – whose flavours broadened the tongue in a fizzbomb. My Ruby Roots beetroot cocktail was less successful, the beetroot simply overpowering everything.
We then moved to the back of the bar where the seating area had started to fill up around 8pm on a Friday night. It's more eating in a bar than a restaurant but if it's bar atmosphere you're after, you get it here.
The menu works with a limited range of small dishes with a handful of larger plates featuring "pimped up Asian fusion food" (not my words). We tried San Choy Bau, spiced beef & lamb mince, on lettuce. The baby gem had a good dowsing of palm sugar and lime, perhaps a touch too sweet, but was a generous serving, as was the good, hand cut steak tartare with soft poached egg, prawn crackers and black chilli mayo.
These two meat dishes, along with an excellent prawn toast of spicy prawns in wanton bases with lychees, saved the meal because sadly the rest was a little unfocused and bland for our tastes: snake beans, bean curd, roasted sweet potato, turmeric coconut milk was a fair vegetarian, mild-tasting take on a Thai curry – fine but nothing special and bit student-like. Ditto the sprouting broccoli with Sichuan soy butter whose sauce definitely contained butter but was lacking much other flavour.
Same too the intriguing-sounding crispy cuttlefish dumpling, egg noodles with pineapple ketchup which looked like a pair of giant onion bhajis swimming in brown sauce. On closer inspection, they were wound inside with cuttlefish strips and tight wads of noodle but lacked flavour – the tangy pineapple ketchup was certainly needed.
However, our trio of sweets to share for pudding, while sounding a little dull was actually very elegant and excelled our expectations. This comprised a delicious puff of the lightest raspberry marshmallow on a spoon – gone before it's touched your tongue; a tiny dab of salted caramel slicked onto a bed of pineapple and a couple of coconutty chocolate truffles.
A's own summary was this: "Meat dishes were generous and delicious but lacked spice heat, whereas vegetable dishes were disappointing, lacking zing. Fish mixed, with an excellent prawn toast offset by a cuttlefish bhaji." (Copycat)
The wines seemed to be dominated by peachy, citrus notes though at £32 for the most expensive bottle, the theme was more easy drinking than connoisseur.
But this added to the bar's informal and relaxed atmosphere. So informal that a drunk couple of girls seated next to us, with the loudest voices – and not typical of the clientele we saw that night – were treated most efficiently and courteously by the waiting staff. Conversation:
"What's up?"
"I'm just drunk."
"I know,we both are. I'll give you one of my noodles."
"I'm not sure where we are."
"I'm not sure either. Let's do a runner." (both slump head on table)
When, 10 minutes later, they'd casually escaped without fully paying, eagle-eyed staff had expertly chased them down, bringing back one fugitive. But everyone was all smiles, abscondee had credit card apologetically brandished (surely a misunderstanding?) and the whole incident was beautifully dealt with. A true neighbourhood joint.