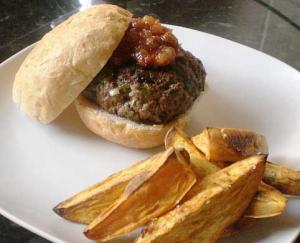 Once in a while, we all just want to be a little naughty and indulge in one of our favourite foods, regardless of the fat/calorie content. Well, I hate to burst your bubble, but you can still do that and be healthy. I started making these burgers over a decade ago and they are just so popular in my family. I have made them for family everywhere from L.A. to Lausanne and it is a firm favourite. Admittedly, the recipe is incredibly flexible and in my case it was always based on what I had in the fringe and which spices I had in my cupboard, so feel free to apply the same principle when making your burger mix. Whatever you do, they will be delicious and you would be surprised at how low fat they can be.
Makes 3 big burgers
Ingredients
400g Extra lean beef mince (you don't have to stick to the low fat meat if you don't want to)
1 small bunch of coriander
4 whole spring onions
1 small onion
1 medium sized egg
1 teaspoon of garlic powder
1 teaspoon of paprika powder
1 teaspoon of Maldon sea salt flakes
Generous seasoning of black pepper
3 burger buns of your choice
Some oil for frying
6 large sweet potatoes, peeled and cut into thick wedges of equal size
Extra Maldon sea salt and pepper to season wedges
Olive oil
Raw onion slices & tomato slices for garnish
Ketchup and mayonnaise or tomato chutney
Method
Preheat your oven to 200 degrees. Leave your mince beef in the fridge until the last minute. Finely chop your coriander and thinly slice your spring onions also. In a food processor, finely chop your onion until the point that it is almost minced, but does not begin to produce liquid.
In a large baking tray lined with baking paper, place all your sweet potato wedges, drizzle with a little oil (I use the olive oil light sprays) and season well with salt and pepper and mix well with your hands, ensuring each piece gets an even coating of oil and seasoning. Spread the wedges out evenly on the baking tray and bake them for 25-30 mins or until the edges are browned nicely.
Whilst your wedges are in the oven, preheat large frying on a medium heat. Take your mince beef out of the fridge and place it in a mixing bowl together with all your herbs, onions and spring onions. Add your whole egg and using your hands, mix the meat mixture well making sure all ingredients are well incorporated. It is important to really 'work' the meat mixture as this is the secret to making it lighter and tastier, so really squeeze the mix using your fingers.
Take the mix and divide it into 3 and roll each piece into a ball and flatten the ball in between the two palms of your hands and create patties. Grease each patty with a little oil (or use olive oil light spray) and fry the patties on a medium heat for about 10 minutes each side (depending on how you like your burgers cooked). Once cooked, place the patty in between your chosen bun, top with a slice of tomato and some raw onion slices (I like using red onion, thinly sliced into half moons) and for me it has to be half a teaspoon of mayonnaise with a generous squeeze of tomato ketchup. Serve with your sweet potato wedges and indulge away knowing that your naughty treat, isn't actually so naughty after all!