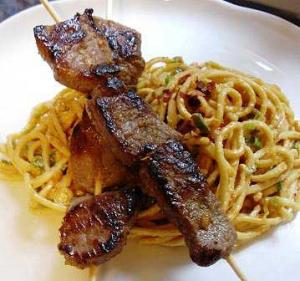 Wonderfully aromatic marinated lamb with a hint of chilli, perfectly complimented by a cold noodle salad with a peanut and chilli dressing. Absolutely delicious as a main meal or snack and involves very little cooking.
Ingredients
For the lamb:
300g of lamb leg steaks
2 heaped teaspoons of ground cumin
½ teaspoon of dried chilli flakes
4 cloves of garlic, minced/crushed
100mls of light soy sauce
2 heaped tablespoons of caster sugar
8-10 Wooden skewers
For the noodles:
300g of cooked egg noodles
1 tablespoons of chilli paste (You can use fresh chillies instead if you like and grind them to a pulp with some sea salt and olive oil)
3 heaped tablespoons of crunchy peanut butter
Drizzle of olive oil to help bind the mix
3 tablespoons of soy sauce
4 whole spring onions, finely sliced
3 tablespoons of milk
Method
To make your marinade, pour your soy sauce into a bowl. Add your cumin, chilli, minced garlic and caster sugar and mix well until sugar has dissolved. Thinly slice your lamb along the width of the steaks, cutting them no more than a centimeter thick and trim off any excess fat. Add the lamb slices to the marinade and coat well with the mix, then cover them with cling film or a plate on top and allow it to marinate for as long as you can. I marinated them for an hour but you can marinate them in the fridge over night and they will be even better.
In a small glass bowl, microwave your peanut butter on a very low heat for about a minute, so it softens up. Add your soy sauce and chilli paste and mix well then pour in your milk, which will help loosen the mixture and make it easier to coat the noodles. Add the mixture to the noodles along with the spring onions and olive oil and mix well using your hands (It's the best way to do it!) Noodles are now finished, so set them aside for now.
After your lamb has marinated for the desired length of time, place a large frying pan or griddle pan on a high heat, allowing the pan to become red hot before use. Using your wooden skewers, thread 3 pieces of the lamb on each skewers and once all skewers are ready, place a few at a time in the hot pan. They should be sizzling and smoking in the pan and as they are thin pieces of lamb they will only require a minute or so cooking on each side before they are nicely blackened. Serve with the peanut noodle salad for the perfect accompaniment and an ice-cold beer will round the meal off nicely.