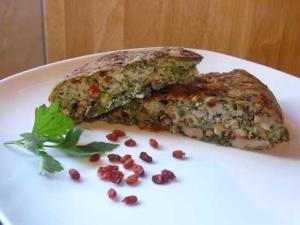 Continuing with the theme of Persian cooking, I bring you the second of my three traditional Persian recipes, in the hope that I can introduce you to the wonderfully diverse and authentic cuisine of the country in which I was born, Iran.
Kookoo Sabzi (Sabzi just meaning 'herbs') is a great favourite of Iranian people. It has so many different versions but the classic is with eggs and herbs and the optional addition of walnuts and barberries, which are a very tart berry which is popular in Persian cookery. Perfect for vegetarians, this dish is mostly served as part of a big meal and rarely eaten on alone. This may just be because we Iranians like to eat (a lot) and are never happy with just one dish. But let me tell you, it is a perfect meal and I would happily chomp away on it by itself and perhaps a little soft 'naan lavash' (a thin clay oven baked bread) or flour tortilla if you prefer. It is commonly served in little squares as a pre-dinner Canapé, but I have always preferred a big thick, generous slice… and usually all to myself, as I am rarely willing to share it.
(Serves 2 as a main meal or 4 as a starter)
Ingredients
6 medium free range eggs
1 bunch of spring onions, thinly sliced
1 packets of fresh flat leaf parsley (standard supermarket size)
2 packets of fresh chives ' '
1 packets of fresh coriander ' '
1 packet of fresh dill ' '
2 tablespoons of thick yoghurt
1 tablespoon of plain flour
90g of whole walnuts (optional)
3 heaped tablespoon of dried barberries (optional, available from middle eastern shops)
2 tablespoons of olive oil
1 tablespoon of Maldon sea salt flakes
Black pepper to taste
Method
Roughly chop all your herbs and place in a large mixing bowl, adding your spring onions, seasonings and turmeric. Crack all 6 eggs into the mixing bowl and give the mixture a stir. Add your yoghurt and flour and incorporate well into the mixture. Once mixed, stir in your dried barberries and gently fold in your walnuts.
Using a large preheated frying pan on a high heat, add your oil and pour in your mixture and then reduce to a low temperature. This is not your typical frittata. It is meant to be around 3-4cm thick and cooked all the way through, but on a more gentle heat, so the eggs don't burn. The mixture should pretty much fill the pan almost to the brim.
After 20-22 minutes of cooking you will need to flip the omelette over. Don't panic, you will not have to toss it and try to catch it. Start by running a spatula around the edge of the pan to loosen the frittata. Then cover your pan with a large plate which should cover the edge of the pan and flip the omelette (carefully) on to the plate and slide the uncooked side face down into the pan. This does need to be done gently (and confidently) but there really is no 'skill' needed here, just a little careful handling.
Cook for a further 8-10 minutes and turn the omelette onto a plate and slice in a big generous wedge and devour while hot. It keeps really well in the fridge and can also be eaten cold, so don't be afraid to make a big batch and eat it for a few days to come. Enjoy!