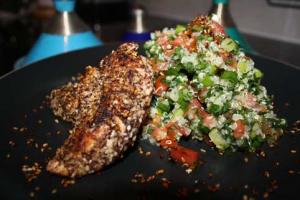 Back from a recent trip in New York, where I ate more than body weight in food in just 10 days (I exaggerate, somewhat) I am back in town, hitting the gym and craving simple, tasty, fresh meals that are low carb and high flavour. This is only a craving, so don't panic, I haven't gone all 'My body is a temple" on you all!
I do like food with interesting flavour and texture as it always keeps me interested, always keeps me hooked and enables me to eat healthily. I think the problem with diets is boredom, which ultimately makes you lose interest in being sensible and sends you to the darker side. Ever the rebel, I think it is important to constantly think up new things to do with meat and fish, as well as new and interesting salads, rather than just your boring iceberg lettuce or mixed leaf bag selection.
This week, my recipe uses a Persian seasoning called 'Sumac' which is a red coarse powder, with an appealing acidity to it, that isn't too overpowering. I use the Sumac to marinate some chicken fillets along with some sesame seeds to give some added crunch. A refreshing Tabbouleh, made with Quinoa instead of Cous Cous, accompanies the chicken to make the perfect dish. The whole thing took less than 30 minutes to prepare from start to finish, a perfect midweek meal that is satisfying and a great meal to take to work the next day… That's IF anything is left over, of course.
(Serves 2)
Ingredients
For the chicken
300g of mini chicken fillets (or just chicken breast sliced into inch-thick strips)
2 tablespoons of sumac powder
1-2 tablespoons of sesame seeds (your choice how much to add)
Salt and pepper to season
1 tablespoon of oil for marinade
A little more oil for frying
For the Tabbouleh
100g Quinoa
2 small packets of flat leaf parsley, finely chopped
3 medium sized tomatoes, diced
6 spring onions, thinly sliced
Juice of a whole lemon
A pinch of cinnamon powder
A little drizzle of olive oil
Salt and pepper to taste
Method
Following packet instructions, boil 100g of Quinoa in a saucepan until cooked and then rinse with cold water, drain excess water and set aside.
Preheat a large frying pan on a medium heat (slightly lower if you use gas). Marinate your chicken in the oil, Sumac, sesame seeds and salt and pepper, using your hands to ensure each piece of chicken is evenly coated with Sumac and sesame seeds and then add a little oil to the pan and pan fry your chicken on each side for about 8-10 minutes, or until the seeds are golden brown and when you touch the chicken, it is no longer 'springy' – indicating it is cooked.
Whilst the chicken is cooking, add your parsley, tomatoes, spring onions, seasonings and Quinoa and mix well using a fork. Finally add the lemon juice and olive oil and mix again, check the seasoning one last time and adjust to taste.
Serve the chicken and tabbouleh together and adding some toasted pita bread is also a great idea. A great dish for Spring, both healthy and satisfying and if you are a veggie, why not serve with some humous or grilled halloumi cheese instead! Delicious.