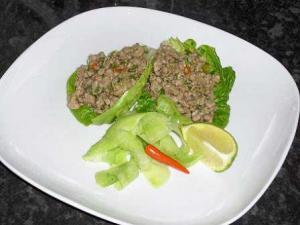 One of my favourite Thai dishes, meaty and zingy with just a hint of spice. Deliciously healthy, perfect as a quick and tasty meal or snack. Great for sharing and can be made ahead of time, making them perfect for dinner parties. (Serves 4)
Ingredients
500g of lean pork mince meat (or minced chicken or beef if your prefer)
2 heads of baby gem lettuce
6-8 fat cloves of garlic, finely chopped
5 inches of fresh ginger, minced or finely grated
2 whole small red chilli, thinly sliced
A generous handful of fresh coriander, finely chopped
2 tablespoons of Thai fish sauce
2 tablespoons of soy sauce
Juice of half a lime
2 tablespoons of cooking oil (sunflower, vegetable or peanut)
1 large handful of fresh coriander, finely chopped
A generous handful of peanuts, roughly chopped (optional)
Method
Gently peel the leaves from each of your gem lettuce heads, trying to keep them whole, wash them and set aside.
In a large frying pan on a medium heat, add your oil, garlic, chilli and ginger and lightly fry for a minute (making sure you don't let them burn) then turn the heat up to a high temperature and add the pork mince and stir well, keeping the meat constantly moving and mixing it well with the other ingredients. It is important keep the mince moving, as it will burn or in some cases stew.
One the mince has cooked, add your Thai fish sauce and your soy sauce and mix well. Add the juice of your lime and stir once more and remove from heat. Decant into a serving dish and add the chopped coriander and chopped peanuts (if you wish) to the mix and serve along side your lettuce cups. Simply take some of the minced pork mixed and fill the lettuce cups and you are ready to eat! Quick, delicious, crunchy and spicy Thai lettuce cups. The perfect summer dish.