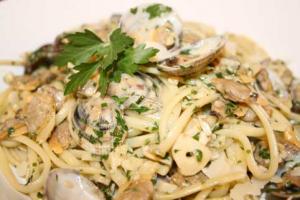 'Bada-Bing!"… 'Fuhgeddaboudit"… Ok, I'll stop, but Linguine and clams always make me come over all 'New York-style Mafia boss-ish'. It is one of my all time favourite dishes to eat. After years of hearing about it in Mafia movies, I felt compelled to see what all the fuss was about and I tell you, I fell head over heels in love. Silky strands of 'Al-Dente' pasta bathed in a rich, white wine, garlic and clam-studded sauce with emerald flecks of parsley and just a hint of chilli. Fabulous. There are several different versions of this recipe, some with a tomato sauce (which in my humble opinion, is just wrong!) and some with the same sauce, but chopped tomatoes added in. I am a purist through and through and like to keep things simple, because it really is when this dish is at it's best and most authentic and who am I to mess with perfection?
My recipe will make ample pasta for 2 hungry people, but literally double the quantity to make it for 4. It really is that simple.
Ingredients
300g of Linguine, or Spaghetti, if you prefer
600g of medium-sized clams
6 cloves of garlic (sliced as thinly as possibly – think 'wafer' thin)
250ml of a good, drinkable white wine of your choice
½ small bunch of parsley, finely chopped
Pinch of dried chilli flakes (optional)
Maldon sea salt
Good knob of butter
Olive oil
Some parmesan to serve (although be aware, in Italian culture adding cheese to fish is sinful!)
Method
The first thing you need to do is wash and rinse the clams several times in cold water to try and get out as much of the grit as possible. Then, in a large bowl or cooking pot, cover the clams in cold water and add a small fist full of Maldon sea salt. This is a handy tip as it makes the clams think they are still in the sea and so they open and close as normal, expelling any grit and sand contained within the shell. Soak your clams for as long as you can, but no longer than 6 hours and when done, rinse them thoroughly and drain them well ready to use.
Chefs always say that if you tap the shells and they don't open, it is a good way to know whether the clams are alive or not, thus discard them if they aren't alive. This is great, but who has the patience to tap every single clam before cooking them? So unless you can see a few broken shells or dead clams, just cook them as normal and after cooking, if they don't open, then you can discard them without half the hassle.
Bring a large pan of hot water to the boil ready to cook your pasta. Once boiled, add some salt to the water and cook your pasta per the packet instructions. Once 'Al-Dente', remove the pasta, drain and rinse it in cold water and set aside. I would drizzle a teeny bit of olive oil onto the pasta and mix it well, it prevents the pasta from sticking together.
Then using another large cooking pan preheated on a medium-high heat, drizzle a little olive oil and add your garlic and keep it moving, so it doesn't stick to the pan and burn. Then add your chilli flakes, followed by your clams. When you add the clams, the pan should sizzle. Stir the garlic, chilli and clams well together and turn the heat up a little higher. Add your wine to the pot and stir well for 30 seconds. Cover the pan with a lid for about 6-8 minutes (or until the shells are all open) and then once done, reduce you heat down to medium again.
What I like to do is try and remove 75% of the shells at this stage. I do it whilst they are in the pot, but you can decant them into a bowl to make it easier and then put the shelled clams back into the pot once de-shelled. You should have a nice sauce made using the wine, but also the lovely juices from the clams themselves. Taste the sauce and then add some salt according to your preference. Then add your chopped parsley and toss in your cold pasta and mix everything well, to even distribute the clams and parsley. When you allow the pasta to cook a bit more, it will absorb some of the sauce and be even more delicious. After a few minutes, add your knob of butter, stir well again and then plate up with an optional sprinkling of parmesan. Then sit down, play your favourite Mafia movie (Mine is Goodfellas) and pour a nice glass of Pinot Grigio and tuck into your pasta… 'Buonissimo!"