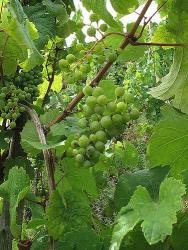 Whether or not it's true, I can only go on sales from my own company, what I read on the internet and in the papers, and generally what I get up to in my own life, but during a time of financial meltdown, do we prefer to turn to our trusted wine merchant or rely solely on what's on offer in the supermarket, then stock up our cellars and wine racks and stay in, cook at home, invite friends round, and try and stay well clear of those over-priced wine bars and trendy, half empty restaurants? Or, do we take full advantage of as many 50% off deals around town as we can, and go totally mental during Happy Hour in the local coffee shop/wine bar at the top of the road three times a week?
I experienced a hugely enjoyable lunch with friends at one of London's top restaurants last week – Chez Bruce in Wandsworth. Even though we (ok, it was me) had collected some The Times vouchers entitling us to 3 courses for £20, our bill for four people, including an aperitif (ok, it was two glasses of Champagne), a zesty bottle of Kiwi Sauvignon Blanc with our starters, the Rocky Balboa of Greek wines, like Chablis on steroids, this amazingly rich yet refined belter from Gaia in Santorini with our mains, and an oozingly gorgeous half bottle of dessert wine from the Rhône in France that complimented the cheese like nothing else, plus coffees etc, etc, our total bill, including service, was £260 (£65 each). Slightly decadent, I'll agree, but rather good value, I think?
So that's where the problem lies with eating out your see, it's not the deal on the meal, it's the alcohol. Entice you in, and then they encourage you to go wild on the booze…
My local pubs in Clapham; a pint of Guinness is either £3.50 or £3.80, depending obviously on which one you venture into. Pop into Tesco next door however and Sol is £3.89 for four bottles! Not quite the same is it, but watching the football the other night in Gigalum, I counted up the totals of my receipts the following morning and realised I had spent £38. On what? Damn girls!
So, for those of you clever enough to have cellared a whole load of wine in the months gone by, a recession is plainly a time to enjoy what you've collected. One friend of mine, whom, I must admit, buys quite a lot of the so-called 'better stuff' from me on a regularly basis (I have to sneak round when his girlfriends not in, and then we quickly smuggle it into the cellar and pretend nothing's happened – brilliant), has been hosting some fantastically lavish dinner parties of late. Get there bang on exactly when they tell to I say lest you might just miss out on a glass of something completely bonkers otherwise.
Having spent quite a lot of his time in Dubai on business of late, he's hoarded away certainly the most impressive array of Cognacs I've come across in a very long time. Drinking Hennessy Paradis in large quantities at 2am on a Saturday morning surrounded only by friends all suffering from heart-burn at the same time – priceless!
Back to Champagne, according to The Guardian – 'Champagne shipments are holding up much better than they did during the last recession,leaving the UK way ahead of other countries as the world's number one export market. There are, however, signs that it may be becoming an indulgence engaged in by consenting adults in private. The sales rise is steepest in the home market. And the champagne of choice is decidedly non-vintage'. Françoise Peretti, director of the Champagne Bureau, said the figures confirmed that, despite the global economic gloom, UK consumers were continuing to enjoy champagne. "Britain's love affair with champagne is still going strong, although what we are seeing is that the British are saving money by drinking more at home. The British are very knowledgeable about their champagne and are loyal to it. While the signs before the recession were that they were drinking more vintage, that is slipping back in favour of non-vintage."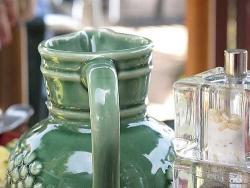 One thing I noticed the other day in Tesco that really annoyed me though was the price of Taittinger Non Vintage. It was £22.39!!! That's almost the price I pay for it! Obviously Tesco can buy in vast quantities, much to the annoyance of the Champagne houses in question, and ultimately put it on promotion whenever they like throughout the year, at whatever price they like too. Lanson, one of Champagne's oldest houses has almost lost its brand identification because of what happened last Christmas. £14.99 a bottle, it ruined it forever. Nearly.
'Generally the people who are drinking high volumes of champagne aren't ones who are going to be particularly badly hit by a recession," Datamonitor's drinks analyst Neil Broom said.
Last year I sold a consortium of Mayfair hedge fund managers £50k of Champagne Salon 1996. We sold it six months ago and it had doubled in price. I checked what the prices were trading at last week and it's now risen another 50%! Where's it going, and who's buying it? Well, you've only to open your free newspaper on the way home every night to find out.
'Chelsea and England footballer John Terry spent £60,000 buying champagne and cocktails earlier this week to celebrate a team-mate's birthday at theVIP nightclub in Whiskey Mist, just off Park Lane,on Hertford Street. Apparently, in all, the players spent more than £120,000 on the night of pre-season team-bonding.
Terry's bill is said to have included 30 magnums of Dom Perignon champagne costing £650 a bottle, or close to £20,000. He also left a £10,000 tip as a thankyou to bar staff. Other colleagues also coughed up cash at the party. Michael Essien pitched in with a Methuselah of Dom Perignon champagne – equivalent to eight bottles, which cost more than £30,000. Royal boozer Prince Harry was of course on hand to join in the frivolity sending over his best wishes with even more bottles of champagne" www.Blog.forbiddenlondon.com
According to The Telegraph, back in February a city banker ran up a £43,000 bill on champagne at a London nightclub, including a £5,000 tip for the waitress. This astonishing bar bill included two methuselah of Dom Perignon champagne at £9,000 each, four jeroboams of Crystal champagne costing £4,500 each, five normal sized bottles of Cristal, and four jeroboams of Belvedere vodka. A methuselah is eight times the normal bottle size, and a jeroboam four times. Incidentally, you can tell the sort of place this is (Maya, 1a, Dean St, W1D 3RB!) if you really wanted to know!) when their motto is: 'If you're not inside, you're outside". Plainly this guy will be 'inside' for plenty more years to come.
As far as the fine wine market is concerned, that bottomed out probably around October/November of last year. Since then however I've been doing rather a lot of trading with a whole bunch of people looking to invest in the wine market themselves, with a short, medium, and long term objective of making lots of money (2-3 years, 5 years, +). Clever guys, because they're right With China being arguably the strongest over-seas market at the moment, especially where Bordeaux is concerned, there's plenty of money to be made.
So then, what's it all about? Binge drinking, privately drinking with friends at dinner parties, just going for a quick swig of the old blessed red stuff at communion on a Sunday, I don't know. What I do know however is that whatever state the economy's in, unfortunately we'll always be known, around the world, as drinkers…
For the ultimate in free tasting, and having lots of fun all at the same time, why not come along to our annual bash in Mayfair on Tuesday 29th September? Both our agencies from Tuscany and Provence are flying over to show off their wines, plus, there'll be a fine wine stand, an everyday drinking stand, food, a live jazz quartet, and lots of other stuff as well. Space is limited, so, to get in with a chance of getting on the guest list, please contact me directly – tim@kitchenersmithwines.co.uk
For details on how to sign up to Tim's monthly newsletter, tasting events, and other such goings on in and around London, please visit – www.kitchenersmithwines.co.uk