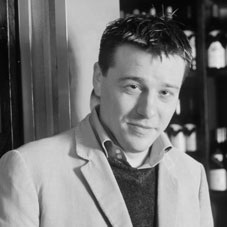 So, everything seems to be falling apart at the financial seams, which is obviously quite concerning, but like with all things, there's always good to be had from bad times. Waitrose, the supermarket, recently reported that sales of their £5-7 wines had dwindled almost into insignificance, whereas sales of wine above £10 had shot through the roof, Champagne too. The winter of 2008/9 will be remembered for dinner parties and staying in. Great, I say. I've got myself involved with two chefs and we're hitting the home set. We'll bring the wine (at retail price), do a wine tasting before dinner, match the wines with the food, tutor that too, cook and serve, clean up after us, and then we're outta there – genius.
I had a few hedge fund managers this time last year who invested quite heavily in 1996 Champagne. Six months later they all walked away with a handsome profit. With news that nearly 25% of hedge funds would have collapsed by Christmas, those lucky fellows with a few bob to invest with are currently scratching their heads as to what to pump it into. Well, with the obvious exception of wine and modern art – remember how much Damian Hirst made recently, the other clever investment at the moment is British films.
I was recently introduced to a chap called Martin Carr who heads up Formosa Films. Martin is a film producer and, having enjoyed a night at my company's first year celebrations in Mayfair recently, he kindly reciprocated by inviting me along to his free view of his latest flick – Clubbed (due out in January 2009). The free view was at The Curzon in Mayfair and with about 40 people, mostly investors, milling around supping what can only be described as gopping wine, we were led through to perhaps the smallest cinema I'd ever been in to watch the film. Afterwards, I had a quiet word in Martin's ear and he suggested we met up a couple of weeks later for a chat.
The Groucho Club in Soho has recently undergone a much needed face-lift. I know this because I had previously been there for a wine tasting and the place looked really shabby. Sitting beneath the window Martin and I chatted amiably away and when the wine list finally arrived I noticed that their house white was an Olivier Leflaive Burgundy, one of the very best and respected of all the Burgundian producers – nice. Better still, Damian Hirst himself had designed the label – how cool is that? Anyway, whilst staring at Sienna Miller who just so happened to walk past and stand literally three feet away outside lugging on a cigarette, and no, she's not that fit, I checked, fourteen times, Martin and I wondered as to how we were going to solve the problem of wine and films.
You may recall a few years ago that I wrote about Devaux Champagne, a small house sited just outside of the medieval city of Troyes in the southern part of the Champagne region of France. Devaux has managed to wiggle itself into many of the very top bars and restaurants in London, and I'm a massive fan. Naturally, not being a part of the sixteen Grande Marques houses, Devaux struggles to be recognised simply because hardly anyone's heard of it. The fact that the UK's Champagne rep, Abi Rooney-Smith lives down my road in Clapham is neither here nor there, but I enjoy putting a bit of business her way, especially when it comes to new, niche markets. Abi has kindly offered therefore a load of stock for the three future screenings, and I'm going along as well armed only with a box of wines to offer potential investors a glass of something much nicer than the dross we all had to suffer with at the Curzon in Mayfair! Investors, they love wine.
By the way, the total budget for Clubbed was just £1.5 million, and if you are interested, the UK has the fastest growing cinema industry in the developed world – Financial Times…
For more info, drop them a line, at: office@formosafilms.com
Tim Kitchener-Smith is the Managing Director and founder of Kitchener-Smith Wines LTD. Set-up in September 2007, the company's main objective is to offer their clients new and exciting wines that you can't find in independent wine shops or supermarkets. They also advise clients on cellar management and have numerous bars and restaurants in London to which they supply wines and Champagne.
An amicable pro at tutoring tastings, Tim spends half his evenings somewhere in the UK gabbling on about what he knows best to those who pay to come and listen. Kitchener-Smith Wines Tours was launched in October 2008 as a means to offer bespoke tours of Champagne and Chianti in Italy. The first one kicks off in April of 2009. South African wine, safari, and golf tours hopes to be launched the following year, 2010. For more information, visit the web site www.kitchenersmithwines.co.uk