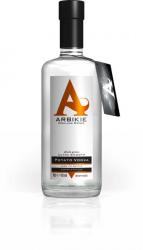 Vodka goes through phases, sometimes seen as simply the teenager's favourite party ticket to be half bottled at the front door, other times being a rough and brutish way of taking in alcohol,. the only thing that kept the broken bus of socialism on the road during the Soviet era – the only thing in fact freely available and affordable it suited a society where near-alcoholism was normal, indeed perfectly justifiable, under the circumstances. 
You can make vodka out of almost anything but fermented grains and potato are most traditional and Poland, Russia and Sweden vie to be the'true' homes of vodka.
Now there are new stylish vodkas on the block, and here's Arbikie, all the way from Scotland.
It's a vodka to be sipped and enjoyed for its own flavours, those of the Maris Piper, King Edward and Cultra potatoes and Scottish pure water it's made from. Slightly sweet and creamy, it's also gluten free.
It's a small operation, Arbikie Farm, has been a working family farm for four generations.
Brothers John, Iain and David Stirling, are in charge of the farm to bottle operation using copper pot stills to bring the art of Scotch whisky distilling giving Arbikie Vodka a comparable quality and depth to whisky.
It's more expensive than average vodkas, but then it's a lot better than average vodkas.
Arbikie Vodka retails at £42 per bottle and is available through a variety of outlets as listed on the Arbikie distillery website
Like a drink? Then have a taste of these