Whiling away the dark nights in the Rwensori mountains of Uganda, there is not much else to do but talk. That's what Edwin and Magda did. Spending endless evenings dreaming and talking they planned their next move for their return to England.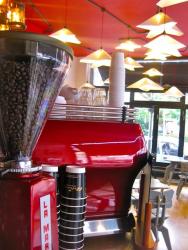 After spending a year in Uganda assisting local communities to set up trade and learn skills, Magda and Edwin thought they might like to try their hand at something new.
It took 8 months for the couple to find the perfect location for what would become their newest enterprise, Artisan, an independent café specialising in the on thing so many others can't seem to get right, coffee. A space in Putney fit the bill and was far enough away from the coffee franchises that litter the high street, the places they were trying to avoid in every sense.
In fact, Edwin and Magda were so serious about differentiating their café from the cookie-cutter versions Londoner's have grown so accustomed to, that they spent many months researching coffee beans and invested in the Cadillac of all coffee machines, the La Marzocco. Their cherry-red mean machine takes pride of place in Artisan and comes all the way from Florence.
The rich red of the sexy machine has been picked up in the ceiling and complements the bespoke design concept supplied by Brighton design company Liqui Designs. Liqui Design's Splice chair was the main source of inspiration for the café's look. Reclaimed scaffolding planks, ex-building site lanterns and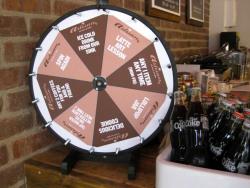 some pretty funky lighting come together to form a kind of industrial-inspired café landscape. Cool without being cold, retro without being kitsch.
After months of research, Magda and Edwin felt Allpress Espresso was the best coffee for their business. A nice, strong blend made with baristas who actually know what they're doing means that you'll get an excellent coffee every time you order at Artisan.
Even though they want the coffee to be the star of the show, Edwin and Magda realise that people also like to eat when they go to a café, so they've teamed up with a local food supplier to provide them with freshly baked cakes, biscuits, soups and various other tasty treats. I had my eye on the flourless chocolate cake sitting on the counter but when they told me about their popular lemon, rosemary and olive oil cake, I made a mental note to return when they had some in stock.
But don't ask for eggs, they don't sell eggs. The couple wanted to draw the line at eggs, not wanting to turn into just another place where you can grab a bacon and egg roll on the run. No, these guys mean business. They sell coffee, very good coffee and the locals are happy. Putney's been waiting for this for a very long time.
Edwin and Magda are having a launch party on Thursday night (24th November) so why not show your support for these enteprising locals and pop in for a coffee and a mince pie.
Artisan, 203 Upper Richmond Road, Putney, SW15 6SG London www.artisancoffee.co.uk