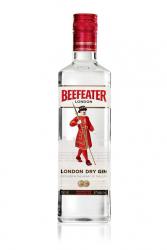 'I don't keep this on the wall, it's not the greatest poster for our business,' laughs Master Distiller Desmond Payne fishing out a framed print from behind one of the pieces of antique company furniture in his office. It is Hogarth's famous etching of 1751 entitled Gin Lane. A woman lies insensible from drink, her baby tumbling out of her arms. Death is close by, also drunk, and all the buildings are tumbling down from neglect, except the pawnbroker's and the undertaker's who are prospering. He's right; it's definitely not a good advert for gin.
'The thing is," Desmond says putting the etching back, while sternly watched over by a picture of Beefeater's founder James Burrough, 'it had an agenda. Hogarth at the same time as he created Gin Lane also did an etching called Beer Street in which everyone is rosy-cheeked, healthy and happy and knocking back the beer with gusto." Basically there was a movement to demonise the nasty foreign import, gin, and to celebrate good old Britain and its beer. A Dutchman, William of Orange, had been on the throne and the 'demon Gin' was of course a drink of Dutch invention.
Today gin enjoys a much more tasteful image, the principal ingredient of Gin and Tonic, of course, but also as the basis of many, many varied and award-winning cocktails. It's consumed in ever-increasing quantities around the world, after a brief dip in popularity during the war years when export was impossible, and shows no signs of slowing down now.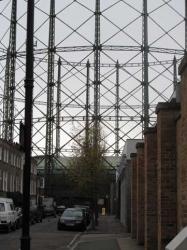 They've been making Beefeater brand gin in this former pickle factory, just behind the Oval cricket ground in South London, since 1958. Before that it was based in Lambeth and before that in Chelsea. What surprises the visitor is that you would never know the place was here from the outside. Unlike a brewery, there is no odour to give it away and yet so much gin is distilled here every week that over 2.4million 9 litre cases of Beefeater are sold worldwide every year.
'Well," continues Desmond as we begin our tour, 'it's a very odour-free process, unlike beer we aren't roasting barley for example. What we do here is take neutral spirit, which is brought in by tanker, add the botanical elements and then distil it to create the gin, which is then reduced to the correct strength by adding pure water."
In fact it's such a clean and simple process that it only takes a handful of people to run the distillery, but nevertheless producing perfect Beefeater Gin is definitely an art as much as a science. Desmond's nose of 40 years experience is key, he has to select the botanicals that give Beefeater its unique flavour and ensure there is no deviation from the original formulae devised by Burrough, who actually trained as chemist before turning his hand to gin.
'Juniper, of course, is key," explains Desmond as we stand in a storeroom piled high with jute sacks packed full of the berries. The smell is intoxicating and rich. 'It's an odd thing the juniper bush," he muses, patting a sack fondly, 'it cannot be cultivated, it only grows wild. Our berries come from Italy where they are harvested by people who know where the wild berries grow and when the berries are ripe they collect them by knocking them off the bush with a stick and the berries fall onto sheets to be collected."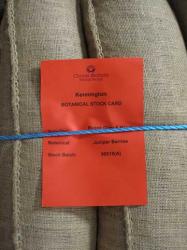 Juniper, whose Dutch name is Genever hence the contraction Gin, has medicinal properties and it's likely that berries were first placed in alcohol as a way of preserving the effective oils. Although it is the primary flavouring botanical in all gins, each gin manufacturer is different. 'At Beefeater we also add coriander seeds, angelica root and seeds, liquorice, almonds, orris root, lemon peel and Seville orange peel," explains Desmond. The latter are hand-peeled in Spain and the long continuous twists are then hung to dry in the hot sun. Tearing one across, as he does, immediately releases the glorious aroma back into the air. Desmond is personally involved in selecting and sourcing the best botanicals for Beefeater himself, a skilled job he enjoys enormously. 'We steep all these ingredients in the still for 24 hours before turning up the boil, this is one of the ways we give Beefeater gin its unique flavour."
One still is working as we pass, the heat can be felt through its thick copper walls and when we peer in through the porthole we can see the spirit, topped with a thick layer of bobbing juniper seeds, boiling away. The vapour rushes up almost a whole storey in height through a pipe that gets narrower and narrower. It crosses the ceiling, condensing as it is cooled, and descends as liquid again to gush into a centuries old brass bound glass box called a Spirit Safe before dropping out of sight to storage tanks below. It is at the glass box stage that the 'cut' is decided.
The first liquid that distils from a new batch is not used for gin, the Master Distiller uses the Spirit Safe to monitor the flow and decide how much of this to divert to waste and when to actually start diverting to gin. At the end of the process he must decide when to stop using the distillation and let the remainder 'the tails' be diverted away. The bit in the centre, the liquid that is now pretty much gin and the heart of the spirit is called 'the cut'. Beefeater's label specifies 'London Cut' gin and that is an indication of the gin's type.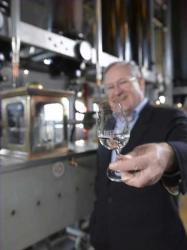 'There was some debate about whether a gin made outside London could be called London Cut," says Desmond as we walk through a massive room lined with gin stills arching up to the ceiling like celestial organ pipes. 'It was decided by the powers that be to allow the term to mean the style of gin, and therefore it didn't actually have to be made in London. Of course here at Beefeater we're London through and through, from our famous logo, to the images we use in our marketing and of course our location. People do like that – around the world our pure London heritage distinguishes us from the others."
Ah yes the others, by now we are in the tasting room where five gins, lightly diluted with water to help release aroma and flavour, await us. Beefeater is there, of course, plus Plymouth Gin, Bombay Sapphire, Tanqueray, Hendricks and the new Beefeater Gin, Beefeater 24 a gin created by Desmond himself and already winning awards, 'picked up another one last night actually," he says modestly.
He is not doing this tasting to prove any gin's superiority, after all he was once also the Master Distiller of Plymouth Gin, but to demonstrate the variety within the gin world. As we sniff and taste he points out the way the different gins major on different flavours from different botanicals, different mouth feels and finishes. The Hendricks (made in Scotland, surprisingly) has the unusual ingredients of cucumbers and rose petals which give it a very unique flavour while his new Beefeater 24 uses hand-prepared peel of grapefruits and Seville oranges, alongside rare Japanese Sencha Tea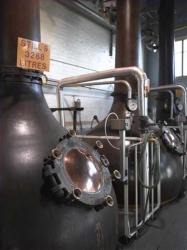 'Ah yes, the tea", says Desmond. 'I was in Japan on business and there was no tonic water to mix with my gin one evening so I used some Japanese tea. The result inspired me and when I was given the once in a lifetime task of creating a new distil for Beefeater, that's what came to my mind." The bottle it comes in is also unique, derived from an early 20th Century flask found in the company archive.
Now suffused with a warm gin glow, but hanging on tight to our babies, on we move to the company bar and what a place it is. A demo bar complete with star mixologist Dan Warner just back from New York. The bar is cosy and full of iconic London-ata such as a Union Jack fridge, a roaring fire (on plasma screen) battered old club style sofas and old London prints on the walls.
Dan has been working with Beefeater as a Brand Ambassador for some years now, a job that forces him to travel the world on expenses visiting top clubs and bars, a task he seems to be able to suffer cheerfully enough. In the time it takes me to clamber aboard a bar stool, these things don't get any easier with age, he is knocking out the cocktails for us to try. As he points out, the gin may be mixed with other flavours but the essential character of the gin will still be apparent. He uses the new Beefeater 24 to good effect to prove this in a variety of mixes. Dan is so dedicated to his craft that he spends spare time making up his own cordials and other special ingredients to ensure his cocktails always have the edge in any bar he works in.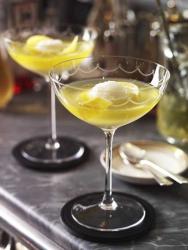 A few cocktails later and a return to the real world is not appealing, but I do have a craving for a sandwich so I have to reluctantly leave Dan and Desmond in their cosy bar. Beefeater have worked hard to retain their place as The London Gin and the knowledge and experience of people like Desmond, who after 40 years in the business is still passionate and full of enthusiasm for the skills of young, cutting edge Mixologists like Dan, is what marks Beefeater out as special.
Desmond stands guard over the Beefeater brand with the same dedication as those famous men in red coats and, you suspect, would come at you with an axe just as quickly if you were to attempt to tamper with tradition. Ah yes, that's the South London spirit all right.