Bibigo is owned by CJ Foods, Korea's biggest food company, dedicated to promoting the wealth and diversity of Korean cuisine to the world. Bibigo, CJ's first European opening, has sister restaurants across South East Asia and in the US. The name, Bibigo, comes from'bibida', Korean'to mix' and English'to go'. In Korea,'bibida' can also be interpreted as a mix of different styles, cultures and tastes. Our writer pal Nick visited the resturant in May and found the fancy-fast-food style to be well priced and well, delicious.
 Psygo Bibigo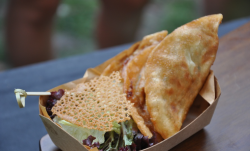 Bibigo, the authentic and contemporary Korean restaurant and bar in the heart of Soho is committed to sharing authentic Korean food with the world. To this end, Bibigo has joined forces with Korean pop superstar and sunglasses enthusiast Psy and commissioned a special Bibigo Food Truck, which will roll into Soho, giving away free samples of Bibigo dishes for 10 days.
The authentic Korean food truck'pop up' is a part of the Psygo Bibigo campaign, starting in Soho on Tuesday, 28 May and culminating at the Capital FM Summertime Ball at Wembley Stadium on Sunday, 9 June where Psy will perform his new hit single Gentleman.
Three Signature Dishes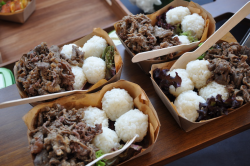 This free lunch offer from Bibigo Food Truck will include a choice of three signature dishes: Bibimbap, (rice, topped with vegetables, beef or tofu and mixed with Kohot, Korean sauce made with hot pepper paste, Gochujang), Fried vegetable dumplings and traditional Bulgogi beef with rice balls. It's a great opportunity to sample and learn about Korean cuisine of which Psy is a great ambassador.'K-Food' is what keeps Psy going while touring the world and he is an avowed fan of Bibigo. Where Psy goes, Bibigo goes.  Far from the usual colour-coded M&Ms and extravagant floers that usually grace the average diva's tour rider, Bibigo Food Truck recently accompanied Psy to Harvard where he gave a lecture and is coming to London ahead of his concert. Psy also got together with Bibigo to help him find a personal chef to accompany him on his upcoming world tour. The competition attracted hundreds of video entries worldwide, which can be viewed at www.psygobibigo.com. Anyone can vote to help select the winner, who will be announced on 14 June.
Between 28 May and 9 June, the Bibigo Food Truck will be turning up at
daily changing locations in and around Soho. Exact times and
locations will be released every morning via Bibigo's Facebook page:
www.facebook.com/BibigoLondon and on Twitter @bibigouk.
Additionally, those sampling the free Bibigo lunch can leave their details at the food truck to be in with a chance of winning a taster of Korean cuisine for their work colleagues, which Bibigo will deliver to the office, completely free of charge.