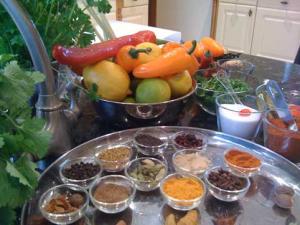 That I can do a mean keema myself made Kumud Gandhi's Indian spice trail course, part of her larger Kitchen Academy cookery course portfolio. all the more inviting. The trail began at Paddington, a train through winter snow to the former high-flying banker's large Hertfordshire home. Kumud was an economist but then studied food science for three years at the London Food Centre. She runs various courses, from Indian to sushi, from her family kitchen. Her work, as both a nutritionist and a cook, is the perfect synthesis of her parentage – her mum's side of the family were chemists while her dad's were spice merchants.
There are five of us students at The Kitchen Academy this morning, mainly local, amateur enthusiasts. On the breakfast island between us are an assorted medley of powders, liquids and whole spices piled in pots on trays. These are the main components of Indian cooking and her aim, she says, is to 'demystify the spices".
Beginning at chillies, of which she spreads a range from hottest to mild, Kumud explains how the heat of chillies is not, as commonly believed in the seeds but in the skin's internal membrane.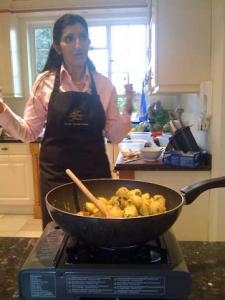 'Chillies are very high in vitamins A, B and C and good for your blood she says," as the students with obvious ailments begin to furiously scribble down notes. India only started growing chillies in the 16th century, she tells us, as they originally came from South America – before this, Indian cooking was heated with ginger, garlic, cloves and black pepper.
Chillies are also a natural painkiller she says as I stub my toe on the chair leg. Both dried and fresh can speed up the metabolism by around 35 per cent. 'If you have poor circulation, you should eat chillies," she explains, because they work wonders with the blood and the immune system, apparently. Kumud adds that people who have bland diets can suffer from irritable bowel syndrome – pre-war Britain must have been a hive of irritability, I think.
Fifteen minutes later and we are still on chillies but hey, I'm not complaining, I eat these for breakfast. The heat of the chillies is determined by size, she says, tiddlers have little flavour but lots of heat while there is more flavour in the heifers. Paprika and dried chillies are good bedfellows, she tells us, adding that 95 per cent of chillies start life green before blushing red.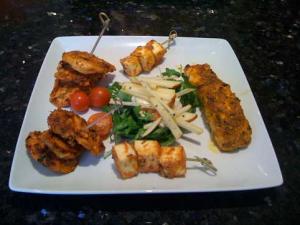 Then Kumud shows us fresh black pepper corns still on the branches. Used in this way they are more flavoursome and aromatic, rather than heat-producing. They resemble a bunch of grapes and smell of juniper berries. Sometimes Kumud puts a whole bunch into a dish to flavour it. One by one, Kumud takes us through the nutritional properties of cinnamon, black and green cardamoms, cloves, nutmeg, turmeric, star anise, mustard seeds, ginger, garlic, oils… the list almost stretches to the sub-continent. Finally, with just an hour spare, we start cooking although it is here I am slightly disappointed. All we do is make, admittedly, delicious marinades and smother either chicken, fish or paneer in it before cooking. I was hoping for a proper sweaty slog. But the beauty of this, she says, is that this healthy fast food can be made in minutes after work if the marinade – prepared from the spices we've learned about – is made at the start of the week and stored in the fridge. And it tastes lovely, vibrant. We squeal with excitement (kind of) when recognising our hard ground individual spices within the mix. I guess if I want any proper cooking, I'll have to go to one of her lengthier courses. Or stick to my show-stopping keema.
Fish Masala Marinade
Serves 2
2 pieces of salmon fillets
1 tbsp vegetable oil
1tbsp lemon juice
½ tsp chopped garlic
½ tsp ground cumin
½ tsp ground coriander
¼ tsp Black Pepper
1/8 th tsp salt
End of a tsp red chilli powder
End of a tsp turmeric (just a pinch)
A small pinch fresh coriander
*This marinade is also suitable for other sea foods such as prawns
Method
Place all the ingredients except the fish in bowl, mix well – and taste. Add the fish
Set aside to marinate for 15 -30 minutes or several hours depending on taste
Reduce cook time if marinated for longer than 30 minutes.
Notes
To make a basic mix for long shelf life (refrigerates for up to 6 weeks) leave out the lemon juice if using freshly squeezed and fresh coriander; store in a glass jar in the fridge and use in the same way as pesto or a marinade sauce.
This marinade is also great with chicken which can be roasted, grilled or pan fried just like the fish. Though beware if you pan fry keep the heat fairly low so not to burn the spices especially if the marinade has just been made.
Cooking Instructions
Place on a tray under a hot grill about 3 inches away from the heat for approximately 10-12 minutes or place in the oven for 18 minutes at 180°. Or pan fry on a low heat for 15 minutes.