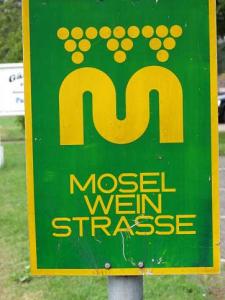 The vines march down the impossibly steep slopes of the Mosel valley like thousands of regimented Roman soldiers, aptly so because it was they who discovered the potential of this region and who began the process of creating what is today a showcase for fine wine and healthy pursuits.
The land is rarely flat here, a few patches next to the river itself but quickly after comes a steep climb that requires the vineyard owners to go up and down on a kind of super Stannah stair lift. These monorails, all powered by what look like old moped engines, wind up almost vertically and do much of the lifting and carrying. The men and women once ferried to the vineyards get out to tend vines that are so vertiginous that one slip could have them down the bottom again very quickly. In fact people do fall and die every so often; this is viticulture against all the odds but with two great bonuses – terroir and climate.
There is almost no soil on these slopes, instead you walk on shards and shards of slate, like walking over the remains of a bombed out building. The vines dig deep for sustenance, up to seven feet, it's the minerals from all the ancient rock and slate below which give Riesling its unique character and the 'petrol odour' which connoisseurs enjoy. They do this in a beautiful bowl of microclimate caused by the way the slopes catch all the sun by day while at night, the now heated slate, slowly releases back the warmth to keep the temperature comfortable for the vines. The slopes rise to 400 metres, turning their back to the cold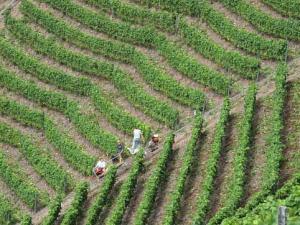 south winds and cuddling the vines gently. Perfect growing conditions. Riesling is a very pure wine, harvested in late September and October, and kept relatively cold during its fermentation to preserve its acidity. The low temperature fernentation is also what keeps the alcohol level down to give Riesling its 'drinkablity'. And it is never oak aged or treated in any way.
We're told this as we wind our way along the slopes of the Calmont area, using paths and ladders especially created by enterprising locals to give wonderful walks of different grades of difficulty, high above the river. Our walk is relatively easy, you don't have to face any terrifying traverses, and stout shoes and normal mobility are all you need. Even so I have to stop now and then for a breather. Each turn of the trail gives another stunning vista, so there is plenty of opportunity to rest and just gaze at the view. German walkers overtake occasionally, some using the ski stick method which lets them bound over obstacles using the power of both arms and legs. Walking is big news around here, everyone does it and signposts and maps in the starting villages are full of the necessary maps and info.
This is beautiful country, the air is fresh and the sun warm enough to be comfortable in T shirts. Most of the vines are owned by small concerns, or even just families, wooden signs indicate the ownership of the small parcels of slope they jealously guard. No one here makes vast amounts of wine, and each little parcel gives slightly different grapes so the variety of Riesling available is large and interesting. One hour into our walk, and with my water exhausted, all these grapes around are making me thirsty and, truth be told, a little peckish too.
It's Riesling men – hallelujah!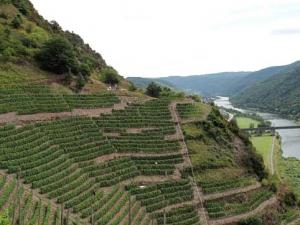 So when we round a corner to look down on a beautiful ampitheatre of vines we're delighted to also see a massive picnic laid out for us amid a stone terrace. This is no ordinary picnic, you look in vain for the primula sandwiches, instead there are verrines – a craze that has been slow to catch on in the UK – pretty glasses layered with mixes and flavours. Plus there are mini Kilner jars with more delicacies, all of them adhering to slow food philosophy and each is remarkably good. It's a feast for eyes and stomach.
And there is Riesling of course, each bottle lightly dewy from the cold box. This Riesling is harvestedfrom the vines we can see below us and Ulrich Franzen the maker is cheerfully pouring it out as he waves at his sons and daughters slowly chugging upward on the toy town monorail.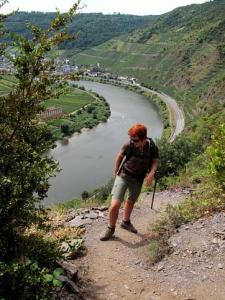 The walk is organised by Petra-Kessler-Hagenau who made the picnic too. Her flame red hair has been a beacon as we climbed and walked with her from the start point on the curve of the river. She organises walks almost all year round, small groups of six to twelve so that we can all interact and hear her tell us in her faultless English all about what we are seeing, eating and of course drinking. She translates for Ulrich as he explains how not so long ago Riesling production was in jeapordy – the steep slopes made it simply too much like hard work for a new generation of children unwilling to put in back breaking hours for relatively little return. The came a new wave of wine makers determined to recover the land, ten years ago Ulrich and his family cleared the whole area below us of decades' growth of scrub and weeds to plant vineyards. Pictures show the enormity of the task – hard enough on flat land, near impossible on a slope. Now across the valley people are creating new vineyards from the old, and only a few small patches, often less than 100m square exist that haven't yet been reclaimed by the original families or by bright new winemakers. Every centimetre has become precious.
Traben-Trarbach. So good they named it twice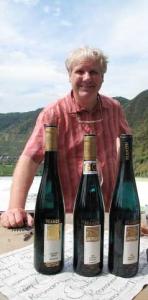 The Riesling wine trail is good business in the valley – German tourists come to the area to travel the length of the river tasting Rieslings as they go. As most Riesling is around 8% this is possible without falling over halfway. Many have exotic motor homes which are allowed to park next to the river, while others take advantage of the many B&Bs available in each little riverside village, all quaint and charming and surprisingly good value. It's a healthy holiday because you don't just have to walk and drink, you can try cycling and drinking and canoeing and drinking too. German efficiency means it's all laid on perfectly.
We are staying in the Romantik Jugendstilhotel Bellevue in Traben-Trarbach. The town's posh name comes from the fact that Traben is one side of the river and Trarbach the other. At one time in the far past this was a centre of Riesling export and the hotel manager tells me the town is like Swiss cheese underground with so many disused cellars. Religious changes made this all stop and while it is still the wine tourism capital of the region due to its mid-location, the exporting now happens by road, rail and plane.
It's a beautiful town whichever side you stay on, and the Bellevue is a remarkable hotel on the banks of the river. An art nouveau place, built in 1903, its tower is designed to look like the neck of a champagne bottle while its outside balconies feature wood decor shaped like wine glasses with silver bolts that represent rising bubbles in the glass. Baron Richtofen stayed here, amongst others, and those famous guests have their names on the massive dark wood doors of the main bedrooms. The warm and welcoming hotel oozes old world German charm and yet time has not stood entirely still here and buildings behind have been acquired and then turned into luxury rooms and family rooms accessed by enclosed bridges that hop across the streets in between.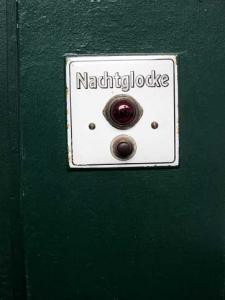 The Clauss-Feist restaurant here is rooted in the past, with fascinating black and white photos of the hotel across the years, but the cuisine is modern and stylish, blending twists on classics such as Chicken, artichoke and lemon thyme in aspic with things like Pike perch and scallop in chive-tomato velouté with vegetables and fine noodles. The five course tasting menu is around 56 Euro each which is good value, especially when you can pay 30 Euros more to have a flight of wines too, most of which are unique Rieslings that you won't see outside of Germany and which perfectly match the local produce.
Next day, after a breakfast on the terrace taking in the river as the pleasure boats start to leave on journeys downstream, we prepare to take a boat ourselves, albeit a canoe. The Mosel river is too busy for canoers but the nearby Saar is perfect. A simple bus ride to Schoden on the Saar and we pick up our canoes with, on my part, some trepidation.
Guten tag sailor!
I've always found canoes, and kayaks in particular, rather tricky. Kayaks seem to want to go anywhere but in a straight line and at any given moment will suddenly roll over without warning. When you've watched your mobile phone, camera and wallet sink past your inverted head to be lost forever, you get rather disheartened with water sports. I'm told that these canoes are very stable but even so I have left the phone behind with the canoe man and have only an old camera I'm prepared to lose if need be.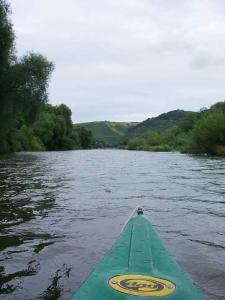 And after a few tricky moments when, being in front I don't notice that the nice lady from Japanese Elle sat behind me is paddling in the wrong direction and we are going nowhere fast, it is very easy and relaxing. The river is as flat as a pond, wide and beautiful and it requires only minimal paddle work to move along at a good place. After a short while you just get into a rhythm; a few paddle strokes, relax and look around, then a few strokes more.
It couldn't last however. At one point the water becomes choppy as streams enter the Saar. I don't mean the sort of waves that washed George Clooney away in his perfect storm, but when you're a few inches from the water surface even little waves look worrying. The canoe slaps up and down hard and I get a massive lapful of water, but so does everyone else. It's not so bad really and we all feel rather proud of ourselves.
After an hour or so we can see our canoe man on the river bank ready to meet any survivors and reclaim his boats. I look around for any of our convoy drifting past upside down but it seems we are all intact and so we compare tales of the 'terrible rapids' like seasoned sailors.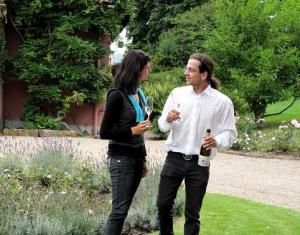 A quick stop at Weingut Reverchon an estate with an Italian styled main house where we are given a very good lunch by the pigtailed manager (Germans around here do rather like to see a pigtail on a man), drink some excellent Riesling and meet this year's German Wine Queen. Not some gay German, she is in fact a rather stunning young woman who has been travelling the world promoting German wines. She won the title not on her looks but in a televised competition where she had to win over an 80 member jury. However looking at previous years' queens though it seems good looks may play a part. She joins our happy band as we motor off to Trier, the Oldest City in Germany.
Going underground
It's also the Wettest City in Germany, or at least it is today. A band of cloud has broken our run of clear sunny skies and it is now tipping it down in a serious way. This means we must go to a cafe and eat lots of cakes and drink big coffees. A penance we all somehow put up with. The rain eases as I buy the only umbrella left in Trier, a small pink one that sends the Japanese girls into fits of hand over the mouth giggles, and we explore the town. It is very old and Roman buildings still proudly stand. The Porta Nigra, which is the best preserved Roman city gate north of the Alps, the remains of three Roman baths, the huge Constantine Basilica and a whopping great Cathedral.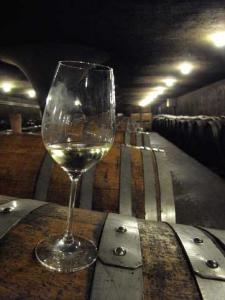 We're going underground though. In a building resembling a 1970's council office in Croydon we meet the boss of The Episcopal Wine Estates. He ushers us into a large room which suddenly jerks and travels down like Stingray's Marineville, descending past old brick walls until the door opens again to reveal an ancient subterranean winekellar over 20,000 m sq in size and which has been here for over 400 years. The oldest part was created in 1593 by the Jesuits and there are over 750 barrels down here stretching away into the sepulchral gloom and in each of them is fermenting the juice from local wine estates. Some years ago while they fermented, a young Karl Marx went to school in the building above and fomented.
The tour includes many stops for a drink and ends in an underground room for a tutored tasting, by the time we return to the world of the surface, blinking like moles, it's time to take the bus to Becker's restaurant, a 2 Michelin star place. There to the staff's astonishment we all pile into the lavs to get changed, no time to return to the hotel. No time to write it up yet, either, but it was excellent.
The next day after a late night, it's one last fun excursion, this time by bike. The Mosel valley is so flat alongside the river that anyone will find cycling a breeze and the breeze in your hair as you pootle along is lovely. The hotel, like most hotels in the area, has bikes for cheap hire, around E10 for the day and, wonderfully, both buses and boats are geared up to carry bikes. So that once you feel you've gone far enough you can simply get a lift back to base. Perfect.
Pedal to the metal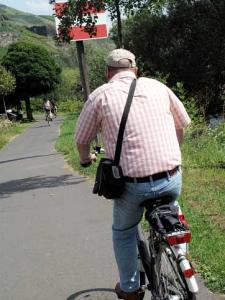 The bikes are simple things; no need for macho Mountain bikes here. A gear change on the handlebars, a 'sit up and beg' riding position reminiscent of 60's nostalgia sitcoms set, invariably and wearisomely, in Yorkshire and a clamp over the rear wheel to carry your bag. Off you go and in my case go straight into a wall. I'm a bit short for my bike and my feet don't touch the ground. A smaller one is quickly rustled up and this time we're off in earnest, wobbling through the lanes of Traben then over the bridge to scatter pedestrians in Trarbach. Initial incompetence soon becomes insouciant bravado and we belt along by the road aiming for the entrance to the cycle track that will take us all the way to Bernkastel a few hours later.
Naturally, or naturlich, as I am now learning to say, we stop at wine centres of interest and consume a massive lunch at one, the Rattschanke Zeltingen ,with its beautiful hotel by the river. Here dates on the wall, way above our heads, show the high water marks of floods through the centuries some within the last twenty years.The Riesling of this region is fuller-bodied than usual and has a natural spritz or gassiness and in the village are plenty of small suppliers offering tastings with an average price of around E7 for six wines. All around us Germans are lugging boxes back to their cars to take home with them, some of their cars already laden full with boxes from almost every vineyard in the Mosel valley.We look on enviously, one bottle in the hold luggage is about all any of us dare risk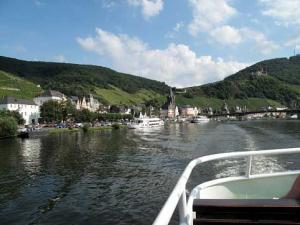 At Bernkastel we eat ice cream and drink coffee in what is a very pretty town and stuffed fuller with holidaymakers than Newquay on a Bank Holiday. A lot are arriving on three wheeled 'hog' bikes driven by bearded pensioners wearing funny helmets with spikes on top. This is what many Germans buy on retirement and good luck to them; they certainly seem happy enough what with the wife perched up the back and a couple of thousand CCs throbbing away in front.
Our little legs are a bit tired now, the last bike I rode had stabilisers I think, so it's good to wheel the bikes onto a riverboat and go up on deck to relax for the two hour ride back up river to base. This really is the best way to appreciate the Mosel valley's beauty – sitting in the sun with a beer and an everchanging vista in front of you. Each little riverside town looks so cute you could eat it and above on the slopes are giant Hollywood signs showing the big winemakers's names. Also evident are quite a few wooden crosses erected to indicate areas where many a wine grower has had a bit of a tumble. Also much in evidence are enormous sun dials about 100 feet high which, very practically, were used by the workers in the old days to know when it was time to descend and get some lunch.
Strewth mate, it's an Aussie!
That night the local winemakers give us all dinner at one of Traban-Trarbach's best restaurants Restaurant Graifen as well as about fifteen unique Rieslings to try. Young men and women passionate about not mentioning Black Tower, their fine wine and reviving old vineyards and traditional techniques, they are really inspiring as each stands up to introduce their wine, often harvested by the family alone with kids of all ages being pressed into service. And what's this? An Aussie accent. "Yes," he says, 'I came here for the experience now I have a German wife, children and a share in a vineyard. I love the wine, the people and the area. I'm a fixture here now.'
You can see his point, this wonderful region has it all and remains unspoilt and beautiful with a massive young enthusiasm for producing superb Rieslings. So forget the Loire wine trail, be negative about Napa valley. Here just over an hour from the UK is something fresh, tasty and very healthy.
Info
Ryanair flies to Frankfurt-Hahn airport regularly. The airport is 10km from Traben-Trarbach. A shuttle bus runs every two hours. Cabs are about E25. Buses, boats and feet are the best way to get around once there
Romantik-Jugendstikhotel Bellevue Traben-Trarbach www.bellevue-hotel.de
Petra-Kessler-Hagenau organises walks with gourmet picnics, herb collecting and cooking trips, canoe trips and horse riding. She can also organise bespoke trips. www.mosel-genusserlebnis.de
Visits to the underground cellars of Trier.www.bwgtrier.de
Restaurant Graifen Traben-Trarbach www.graifen.de

Tastings at the Italianate Weingut-Reverchon www.weingut-reverchon.de

Most hotels will have bikes to hire and can help with organising canoeing. Boats run up and down the Mosel valley all day and buses are frequent.
Our special thanks to Ernst Buscher of the Deutsches Weininstitut for all his help. Especially over the rocks!