Bored of chocolate eggs? Sick of hot cross buns? What about biskie, rum or (and) tequila? We take a look at the ever-so-slightly different offerings in London this Easter.
The new Cutter & Squidge pop-up, Soho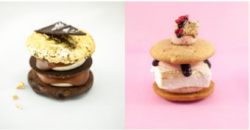 From 23rd March – 5th June, Cutter & Squidge – the creators of the original 'Biskie': a combination of a biscuit, cookie and cake – will be running a fully-fledged pop-up selling delights from their full range, as well as hot and cold homemade infusions.
4 Brewer Street, Soho W1F 0SB open from 9.00am to 8.00pm
Chocolate-orange, rococo chocolate ping-pong ball tapped 'Ron De Replay' cocktail, at Bounce 
Rum brand Ron Zacapa has partnered with Bounce to launch the 'Ron de Replay' cocktail: Ron Zacapa 23 (aged 2,300m above sea level in Guatemala) combined with orange liqueurs and chocolate bitters, crowned with a bespoke luxury Rococo chocolate ping pong ball, especially created for Bounce.
The Ron de Replay cocktail is priced at £9.75
Drinkable artwork from Don Julio at M Restaurants
To celebrate The Year Of Mexico in 2015 Tequila Don Julio has created a new fusion between art and drink called The Don, which has just launched at M Restaurants. As guests fill their cocktail glasses from different cocktail chambers within, the artwork transforms from a Mexican sugar skull to reveal a portrait of the iconic Don Julio González – apparently, it's pretty cool.