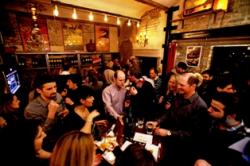 This little sister bar to Camino in The Regent Quarter, just off Pentonville Road, is unique. A tiny bar, just across Regent Quarter's Varnisher's Yard central Courtyard from Camino, it has big character. The apparently hap-hazard decor and floor tiling comes together well with its wine barrel top high tables, presumably former sherry casks, it gave me the feel as I entered of being transported from busy Kings Cross into a rustic Spanish bodega. Somehow you forget about all those people singularly focused on getting from the two London termini, each just a stone's throw away, to points north and find yourself relaxing in the charm of the place. As you enter Bar Pepito, its narrow bar runs along the whole of the left hand side of the establishment and on the opposite wall there is a caged area behind which the bar's stock of sherry is stored. Every inch of the available space has been used to great effect, apart from a small number of those high tables and some high stools, the central area has been kept pretty clear.
Bar Pepito is the brainchild of Richard Bigg, owner of Camino, creating what we are told is the only sherry bar in London. It must also be one of the smaller bars in London, not much bigger than a good sized domestic front room. In talking to Richard at the launch party, he told me that before the launch he had taken a group of his staff, whose principal focus will be Bar Pepito, to Jerez in Spain in order that they could learn first-hand about different varieties of sherry and how this had made sherry loving converts of every one of them. Certainly, as his staff circulated the room full of invited guests, with trays of beautifully tasty hand carved cured ham, lovely chorizo, and cheeses, amongst other things, they were more than happy to talk about and recommend different Sherries that guests might try. Their enthusiasm was obvious.
Bar Pepito has a great ambiance through the rustic feel that has been created there, which is so at variance to the immediate surrounding area, apart, perhaps from Camino itself. Oddly I also loved the little bit of new technology incorporated in its design and here I'm talking about the enomatic wine dispenser, a great little machine that operates by gas pressure, from which you can help yourself to 25, 50 and 75cl pours of different sherries. Clearly you have to pay for these, but this is through using a card, a bit like an oyster card, that you purchase and load with cash from the bar. It's a great idea as you can try small 25cl tasters that range up from 95 pence to about £5.00 (but that is for fine sherries that are some 30 years old) its novel, something I've never encountered before and I think, a bit of fun.
I can quite see Bar Pepito becoming a popular place for groups to meet after work to have a few drinks with some good quality tapas, or for those who might have a bit of a wait for a train from Kings Cross before their train is due. I also see it becoming a bit of a destination for those who just love sherry. It is quite simply, unique, attractive and fun, and I was very taken with it.