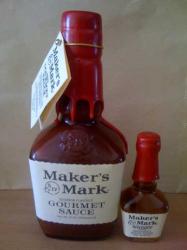 Gosh, everything's a masterclass these days. If it's not pointing Dutch bricks in wigwam stylee, it's (very three years ago) butchering a cow or slicing gouda into helicopter blades. I plumped for a more traditional lesson – the master distiller of Yeehah Maker's Mark (that redneck waxed bottle found on the top shelf), givin' us all the lowdown on how the corn-rich distillate came to be a bourbon.
In Callooh Callay, a Shoreditch bar of mismatched vintage curios, half-baths for sofas, we sat down with the Kentucky company's master distiller Kevin Smith.
Why Shoreditch? Maker's Mark are targeting the hipsters this week, though more the Java-toting designers than gun-slinging Jesse James types. This Wednesday 26 May there will be a pop-up bar tender in the City, mixing whisky drinks for weary workers – 'responsibly" reminds our distiller conscientiously.
Smith tells us they want to separate this bourbon from its rowdy outlaws, aiming for a soft-spoken, smooth and gentler character of whisky. And that's true – at just six years' ageing with winter wheat and corn, rather than rougher rye, it's a little too easy to drink, and probably good for the uninitiated whisky drinker. At the tasting, we tried 90% proof white dog – the youngest, lowest-proof distillate and oddly, my favourite – it tasted of corn. The undermatured Maker's Mark was caramelly but with no bite, the fully-ready one is nice and creamy, and a slightly rotten-tasting of over-maturation.
Maker's Mark is very good at branding. It has the stories of its Scottish-Irish ancestry, the legend of how the wax neck appeared – dipped in a deep-fat fryer – its seasoned white oak barrels and various brand extensions. Which brings me to my customary goodie bag critique – goodie bags being a statement of business intent and not a butter-up for journos, of course. Mine was brimming with informative paraphernalia but curiously crowned with a giant bottle of Maker's Mark KETCHUP. And a weeny miniature of whisky. This, I'm guessing, must be their stab at getting us to drink responsibly. Yeehah!