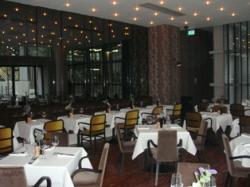 Tompkins launched recently to a host of invited guests, yours truly amongst them. We arrived at this vast establishment early on in the evening, and it was as well that we did as it gave us the opportunity to take a good look at the place before it was crowded with several hundred people.
So, immediately after our arrival, we took our glasses of dry white and explored this rangy bar restaurant set in yet another new build in Canary Wharf, where it occupies a good portion of the ground floor. As you enter Tompkins you are confronted by a huge bar, there's a lounge area to the left and a further pretty luxurious lounge on a mezzanine floor above that, which I imagine would make a great place to hold private parties. To the right of the main entrance is the dining area which has views out onto water and other modern Canary Wharf buildings. The kitchen is visible to guests with a sizeable L shaped pass, more or less pointing toward the dining area and whilst you wouldn't get a clear view of kitchen activity from one of the tables, you would see the team there beavering away to prepare your meals.
Having completed our tour of the place we stood chatting near the kitchen, it was a little less crowded there. The attentive waiting staff were busily making sure that no glass even got as low as half full. Now that's the kind of launch I like! Time ticked by and the never ending stream of attendees just kept arriving. Then, after a while trays of nibbles were dispatched to the room. We were able to sample a few of the canapé sized morsels including a pork rillette which we had to spoon ourselves onto crostini, mini burgers, and some cheesy bread sticks. These were excellent and if a measure of what Tompkins have on offer on their menu, this promises to be a great place to eat.
While there we did get hold of a copy of the menu and it has some interesting offerings, it can be viewed on line through their web site below. Tompkins are aiming at the American style bar restaurant and I can see it being popular with those who both live and work in the area, but with transport links continuing to improve it is a place that I would be happy to make the trip to for a meal and drinks with friends.
Tompkins, 3 Pan Peninsula Square, Canary Wharf, London, E14 9HN Tel: 020 8305 3080 www.tompkins.uk.com