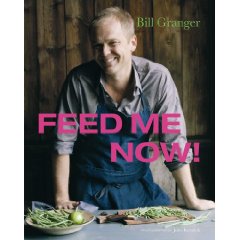 Not everyone over here knows of Bill Granger, in his native Australia however he is as big as Jamie, but a lot more likeable. He abandoned art school at 22, opened a restaurant in Sydney and became famous when his scrambled eggs so impressed a New York journalist that within a short time he was writing books and appearing on TV.
His books are best sellers, somehow bringing the sunny optimism of Australia into the kitchen with recipes that always seem to be freshly looking forward to a culinary place that is closer to California than anywhere else. This new book is no exception and despite, for me, the ANNOYING designer trick of putting RANDOM words into CAPITALS in the text, it's very readable and very cookable. This is healthy breakfasts, fast lunches, nursery teas, cook-ahead ideas, after-work suppers and dinners, in fact all a fast moving family needs.
Feed Me Now sums it up – there's no time to waste in Bill's kitchen and the recipes reflect this. Spaghetti with anchovies with turnip tops takes no longer than the pasta takes to cook. Chicken drumsticks with paprika and garlic cheats a bit because the chicken should marinade at least an hour, but the cooking itself is a breeze. Other dishes such as lamb chops with sweet potato and lemon or braised pork with pineapple salad also take hours in the oven, but that's time you can spend doing something else not standing with a spatula in your hand.
His super-fast recipes use stir fry to whip up instant flavours with dishes such as chicken and shitake stir-fry and stir-fried rice noodles with chicken and snake beans, while simple, spicy and delicious is the theme with grilled beef and sweet chilli relish or pork chops with rice, salad and salsa. As for penne with squid and chorizo, spiced tuna with Moroccan relish, and pork steaks with cashew nut salsa? Well you know they are going to taste fantastic before you even start and the great photography only spurs you on.
This is an invigorating book, a blast of antipodean fresh air that really makes you want to get in the kitchen and get cooking.
You can win a meal with Bill by entering our great competition.
{ISBN:1844007065}